More COVID-19 Monologues from Elysium
Published: 14 April 2021
Reporter: Peter Lathan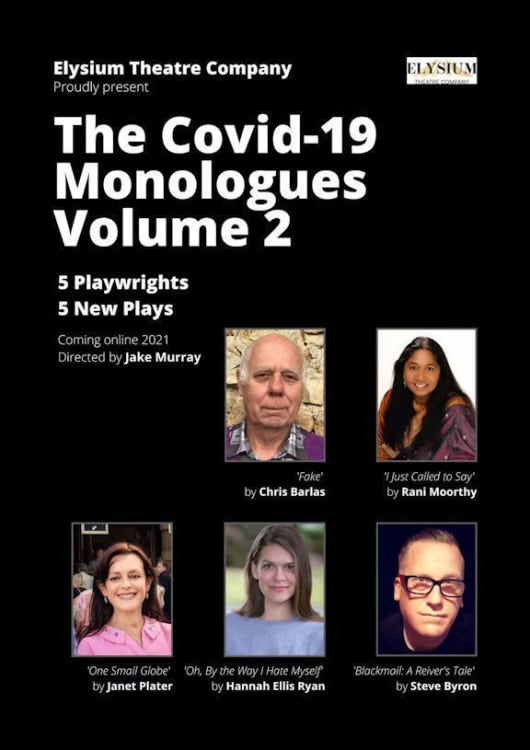 Just a week after Jake Murray, Artistic Director of the Durham-based Elysium Theatre Company, received an Olwen Wymark Award from the Writers' Guild of Great Britain for its first round of COVID-19 Monologues, the company has announced a second round of five Monologues which will launch on Friday 16 April.
These include:
Fake by Chris Barlas, performed by Karren Winchester
Chemtrails, 5G, anti-vaxxers, COVID-19, the New World Order: Marion is an online warrior who has exposed the awful truth about the global conspiracy to control us, and she is going to show us the way... An exploration of conspiracy theories and the power they have over our minds, Fake focuses on the personal trauma that lies beneath so many of them. Chris Barlas (author) is a veteran writer for TV, radio, stage and film, particularly the BBC and ITV, including several seasons of Byker Grove.
Oh By the Way, I Hate Myself by Hannah Ellis Ryan, performed by Laura Littlewood
After a long day putting on a sad face at her mother's funeral, Beth is home alone with a glass of wine and ready to tell the truth about her relationship with her dear departed mother. A comic monologue about mothers and daughters, body issues and finally trying to be your own person. Hannah Ellis Ryan is an Australian-born, Manchester-based actress, producer and writer and co-founder of Elysium Theatre Company. She has appeared in The River and Isolations for Elysium and will be appearing in Hello and Goodbye later this year. She's best known for playing Hannah Gilmore in Coronation Street in 2018.
I Just Called to Say... by Rani Moorthy, performed by Alex Townson
A young man watches his father in ICU on his tablet. As he hopes for his father's survival, he unburdens himself about their relationship and the violent abuse at the heart of it. A monologue dealing with physical abuse, family, sexuality and the search to find out who you truly are. Rani Moorthy is a Malaysian-born actor and writer based in Manchester. Artistic Director of her own company, Rasa, her theatre credits include Too Close To Home and Curry Tales. She is best known for her performance as Mrs Bilal in TV's Citizen Khan.
Blackmail: A Reiver Tale by Steve Byron, performed by Micky Cochrane, with singing by Sarah Boulter
A drama from the era of the Reivers, when the English-Scottish borders were dominated by criminal families who terrorised the land with extortion, blackmail and murder. These families included names who have gone on to become major figures in the modern day: the Nixons, the Johnsons, the Maxwells, the Armstrongs, the Dacres and many others. Written with the epic quality of a Western, Blackmail is part of the folklore of the North East and its history. It tells the violent tale of an ordinary man who, provoked by the Reivers, took the law into his own hands. Steve Byron is a North Eastern writer and actor. Writing credits include Bacon Knees & Sausage Fingers, Floorboards, Walter and the upcoming Sucking Eggs at Alphabetti.
One Small Globe by Janet Plater, performed by Jake Jarratt
Joe is an actor. He hasn't had a lot on since COVID-19 closed all the theatres, but he wants to tell you about a new job he's got: it's out of this world. A plea for the glory of theatre, One Small Globe is a comic, fantastical story with an edge. Janet Plater is a Newcastle-based playwright and a leading NE theatrical agent. Her work includes Georgiana at Buxton International Opera Festival, which won the Outstanding Achievement in Opera Award at the British Theatre Awards 2019, The Gaul (Hull Truck Theatre), Hull's Angel (Alphabetti Theatre, Kardomah Hull), Gaslight on Grey Street (Newcastle Theatre Royal) and Haddock and Chips (Carole W Productions).
The plays will be available on YouTube from Friday 16 April.