The Wales Theatre Awards 2018
Published: 28 January 2018
Reporter: Othniel Smith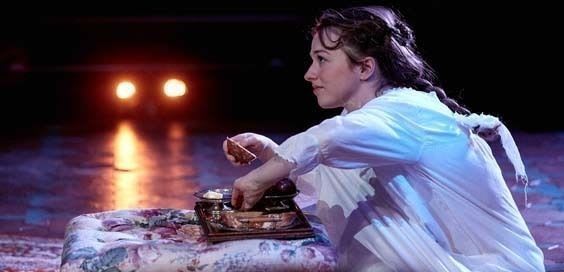 Local news coverage of the 2018 Wales Theatre Awards prior to the evening focussed on the question of diversity—primarily an open letter signed by 40 creatives, protesting at the presence on the shortlist of productions in which non-Caucasian roles were played by Caucasian performers—an apparent reference to Music Theatre Wales' The Golden Dragon—and noting the lack of non-white performers amongst the nominees.
The issue of representation led to several individuals and organisations (including National Theatre Wales) boycotting the ceremony, which was being held for the first time in Newport.
A notable response to this came in another open letter, this one from David Pountney, Artistic Director of Welsh National Opera who, while applauding the intention to highlight discrimination, defended the right of opera companies to practice "colour-blind" casting, in the interests both of artistic excellence and broadening opportunity, pointing out that the role of Natasha in their forthcoming production of War And Peace would be played by a non-white singer.
In addition, the integrity of the procedures for nominating for and judging the Awards has been questioned on social media. As a nominator and member of one of the judging panels, I would wholeheartedly defend the process, based as it is, squarely on nominations from over 40 critics from all over Wales with, this year, 141 shows represented.
I would further argue that statutory funding bodies in Wales have significantly more influence over what appears on our stages, and consequently on awards shortlists, than the organisers of celebratory ceremonies.
The evening itself, light-heartedly hosted once more by Welsh media luminaries Nicola Heywood-Thomas and Arfon Haines Davies, began with the performance of a brief extract from Ballet Cymru's A Child's Christmas In Wales, currently being developed in Newport, and due in Autumn 2018. The post-interval entertainment was an extract from A Regular Little Houdini, written and performed by Daniel Llewelyn-Williams, who went on to win the inaugural Wales And The World Award for his success in touring the piece internationally.
The biggest winners on the night were Theatr Clwyd's production of Uncle Vanya, which earned three awards, as did Welsh National Opera. Theatr Genedlaethol's Welsh-language Macbeth was a winner in two categories, as was Sion Eirian's political drama Yfory, Gary Owen's violence-and-fatherhood-themed Killology, and National Dance Company Wales.
Several award-winners made reference to the diversity debate whilst picking up their trophies, with Brexit and sexual abuse scandals also mentioned. The importance of "pulling together" both formally (in terms of co-production) and informally was a recurring theme.
Perhaps the most moving speech, however, came from Simon Harris of Lucid Theatre, whilst introducing the Special Achievement Award, which went to Godfrey Evans, the now-retired founder of West Glamorgan Youth Theatre. Harris spoke of his having been "saved" by his involvement with the company, whose other alumni include Michael Sheen, Joanna Page and Russell T Davies, as well as several previous Wales Theatre Award winners, such as Matthew Bulgo and Christian Patterson.
Whilst accepting his award, Mr Evans spoke of the importance of access to the arts being seen as a right rather than a privilege; aptly closing the evening by stressing the importance of inclusivity.
The 2018 Wales Theatre Awards winners are:
BEST DESIGN AND / OR COSTUME: Buddug James Jones & Anneliese Mowbray, Gwledd Gwyddno / The Sea King's Feast, Cwmni Theatr Arad Goch
BEST DIRECTOR: Tamara Harvey, Uncle Vanya, Theatr Clwyd & Sheffield Theatres
BEST LIGHTING: Joe Fletcher, Macbeth, Theatr Genedlaethol Cymru
BEST SOUND: Lucy Rivers, Sinners Club, Gagglebabble, Theatr Clwyd & The Other Room
BEST ENSEMBLE: Tiger Bay, Wales Millennium Centre & Cape Town Opera
BEST CHOREOGRAPHER: Marcos Morau, Tundra, National Dance Company Wales
BEST FEMALE DANCE ARTIST: Anna Pujol, The Light Princess, Ballet Cymru, Catrin Finch & The Riverfront
BEST MALE DANCE ARTIST: Ed Myhill, Animatorium, National Dance Company Wales
BEST DANCE PRODUCTION: Shadow Aspect, Ballet Cymru
BEST PRODUCTION IN THE WELSH LANGUAGE: Wythnos yng Nghymru Fydd, Opra Cymru
BEST PERFORMANCE IN THE WELSH LANGUAGE – MALE: Richard Lynch, Macbeth, Theatr Genedlaethol Cymru
BEST PERFORMANCE IN THE WELSH LANGUAGE – FEMALE: Caryl Morgan, Yfory, Theatr Bara Caws
BEST MALE IN AN OPERA PRODUCTION: Simon Bailey, From the House of the Dead, Welsh National Opera / Opera Cenedlaethol Cymru
BEST OPERA PRODUCTION: Le Vin herbé, Welsh National Opera
BEST FEMALE IN AN OPERA PRODUCTION: Natalya Romaniw, Eugene Onegin, Welsh National Opera
BEST PRODUCTION IN THE ENGLISH LANGUAGE: Uncle Vanya, Theatr Clwyd & Sheffield Theatres
BEST FEMALE PERFORMANCE IN THE ENGLISH LANGUAGE: Rosie Sheehy, Uncle Vanya, Theatr Clwyd & Sheffield Theatres
BEST MALE PERFORMANCE IN THE ENGLISH LANGUAGE: Sion Daniel Young, Killology, Sherman Theatre & Royal Court Theatre
BEST PLAYWRIGHT IN THE ENGLISH LANGUAGE: Gary Owen, Killology, Sherman Theatre & Royal Court Theatre
BEST PLAYWRIGHT IN THE WELSH LANGUAGE: Siôn Eirian, Yfory, Theatr Bara Caws
BEST TOURING PRODUCTION (WELSH): Sieiloc, Rhodri Miles
BEST TOURING PRODUCTION (ENGLISH): How To Win Against History, Àine Flanagan Productions, Seiriol Davies & the Young Vic
BEST SHOW FOR CHILDREN AND YOUNG PEOPLE (WELSH): Mwgsi, Cwmni'r Frân Wen
BEST SHOW FOR CHILDREN AND YOUNG PEOPLE (ENGLISH): Eye of the Storm, Theatr na nÓg
WALES AND THE WORLD: Daniel Llewelyn-Williams, A Regular Little Houdini
SPECIAL ACHIEVEMENT: Godfrey Evans