Anna Karenina
Director / choreographer Anželika Cholina, music Alfred Schnittke
Eugene Vakhtangov Theatre, Moscow
Vakhtangov State Academic Theatre of Russia
–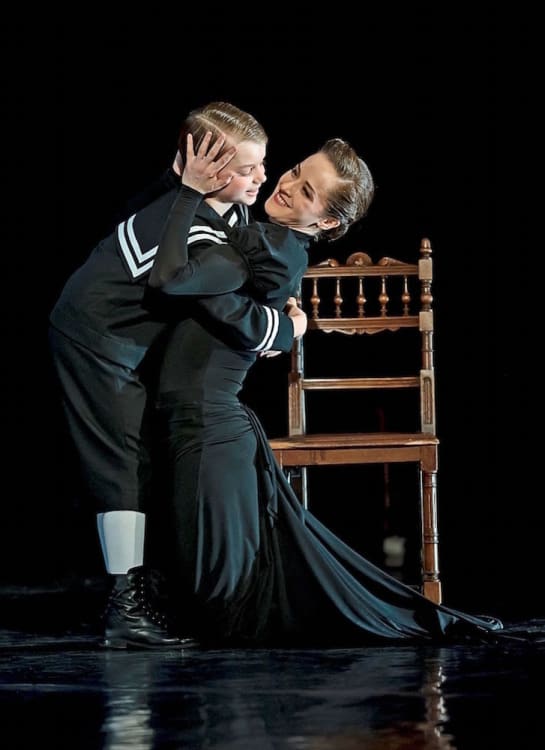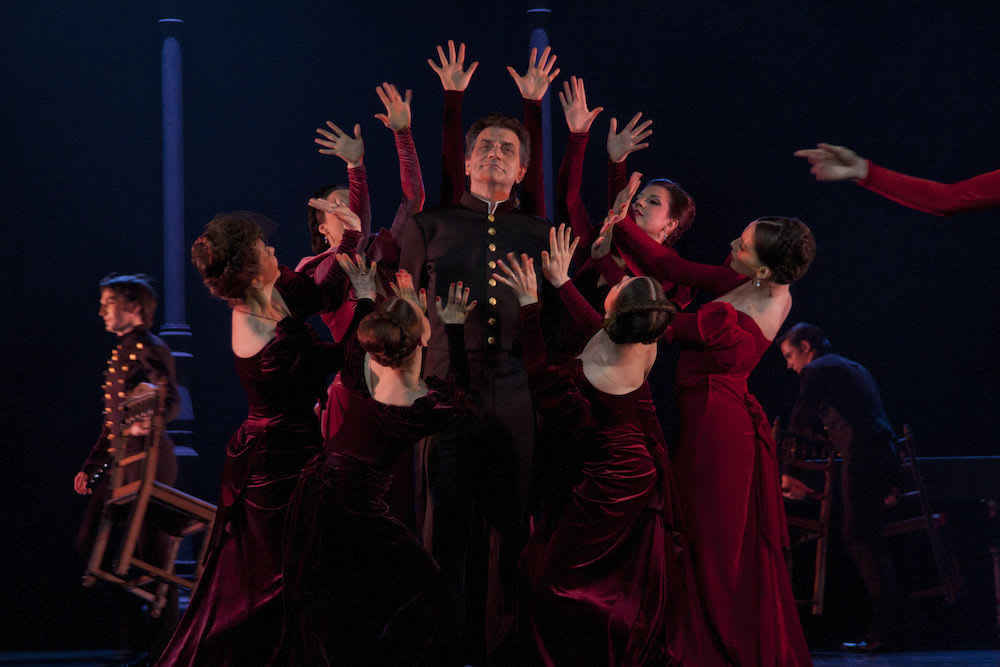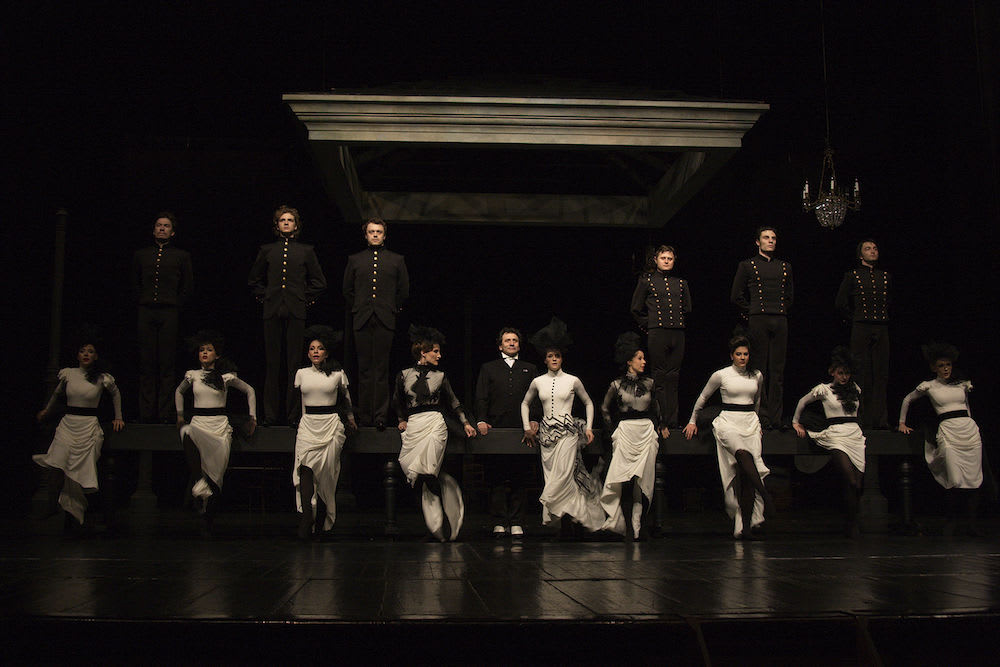 I recall, as a student of Russian language and literature, a seminar on Tolstoy's talent for characterisation, but how do you do it without his words, how does one begin to develop a physical language to replace them? In theatre everything is possible with imagination and the willing participation of the audience.
And, of course, physical theatre's language is universal. But what if you don't know the story, its social context, its detail, the emotionally tortured dramatis personae? No problem for a Russian audience steeped in the classics, but a challenge nevertheless, to which director / choreographer Anželika Cholina rises admirably with her award-wining 2010 Anna Karenina, an aide-memoire to a novel I read a very long time ago.
Adomas Jacovskis's spare set (chandeliers and columns with raised wooden roof), Tadas Valeyka's dusky lighting, Yuozas Statkevichus's beautiful monochrome costumes (when colour comes in the form of smoky red ball gowns it is a marvellous interjection) and what we have is a silent movie with traces of Pina Bauschian dance theatre (all those chairs) and, if I may say, a touch of Isadora Duncan in its freeform moves.
These are excellent actors, rather than trained dancers, called upon to move eloquently. They speak not just with their faces but their whole being. The women are stunning, and the men make for highly-strung stallions leaping over the fence in that ill-fated horse race, and easily inebriated revellers at the wedding feast.
What strikes me is how much the town versus country elements are like Pushkin's Eugene Onegin. As if to accentuate this, there is a scene at the opera in act two, where Maria Pakhar sings Tatiana's letter aria. Tchaikovsky and Schnittke's music are the emotional driving force of the production, its underpinning. Especially in the lovers' duet scenes, Schnittke's urgent ululating violins speak louder than words. The musical collage is magnificent. I seem to remember that Boris Eifman used Tchaikovsky for his overheated Anna Karenina ballet.
Married woman Anna Karenina falls in love with Vronsky; so does eligible Kitty (Natasha Kalashnik). Stolid country squire Levin (musical motif a peasant accordion), wooing skittish Kitty, has to keep dragging her away from her infatuation with the slim, dashing officer in dazzling white. She skips around Levin like a fairground colt, and flies high in the sky; he pulls her down to earth (visualise Chagall's 'Promenade' painting). He gets the girl and does not lose his life like Lensky in a duel.
It is Anna who sacrifices hers to a fatal attraction. This is made clear in the first all-encapsulating scene, which opens with a tableau of some twenty characters with hands over their ears, spectators—anxious spectators, perhaps, at the horse race, at the railway station where Anna meets her demise. Haughty husband Karenin strolls with their small son Sergei, the innocent pawn in the marriage game.
This is shallow high society with its hypocrisies and coded status, a patriarchal society with different rules for men and women. Anna's mistake is to be honest in her love and then to be caught out, whereas others, like flirtatious Princess Betsy (Vronsky's cousin, a striking Kseniya Kubasova), seem to be able to avoid scandal with their petty affairs at the many balls, where intrigue is easy.
The scene is set with that condensed impressionistic and expressionistic prologue, which segues quickly to Anna comforting Dolly, who is having hysterics (there is much hysterical arm and hand waving throughout) over her husband Stiva's philandering behaviour (Valery Ushakov's decadent long lock of hair a signifier). This is Tolstoy's famous opening lines—"All happy families are alike; each unhappy family is unhappy in its own way"—which he proceeds to prove… or maybe not. Distress ripples though the household in those conjoined hands (not unlike Akram Khan's plaited hands in Dust). And Anna proves to be not unlike her brother.
Significant glances, costumes, body language, an unhurried pace, and some telling tropes (Kitty's wrap becomes a straitjacket—and I see Nijinska's Les Noces)… There is room for the audience to enter the story, to participate, as moves repeat (all those convenient balls) and situations repeat till Anna can go on no longer. Her anguish at losing her well-behaved, piano-playing, sailor-suited son, her anguish at Vronsky's tiring of her. It is resigned Dolly's (Maria Volkova) turn to try and comfort idealistic Anna.
Olga Lerman's Anna has a marvellous poise about her, Dmitry Solomykin's Vronsky looks a callow youth, who will go on to further conquests, but it is Evgeny Knyazev as Karenin who captures my attention. A small role (almost a walk-on role in this production), but what a presence, finger-wagging in the library, conducting all around—there's something Gogolian in this mockery of bureaucracy. A wonderful actor, whom I remember from Smile Upon Us Lord at the Barbican in 2018.
And it is the Vakhtangov name and reputation that drew me to this production. Rimas Tuminas's Eugene Onegin at the Barbican in 2015 was memorable, but it was his Uncle Vanya, Chekhov's subtext made visible, at the Noël Coward Theatre in 2012 that made me sit up. Anželika Cholina's work I do not know, but I read that her debut in 1996 was a Medea ballet. And that she has collaborated with Tuminas and the Vakhtangov theatre on seven productions. Good enough for me.
Apparently playing to sold-out houses in Moscow, I'm thrilled to see Anna Karenina courtesy of Stage Russia streaming, but frustratingly on the day my WiFi is having issues, first time ever—jinxed by all that emoting, I guess. Check out the web site, it is a font of goodies.
Reviewer: Vera Liber