Solstice
Choreography Hynd, Khan, Petipa, MacMillan, Lopez Ochoa, Quagebeur, Deane, Forsythe
English National Ballet
Royal Festival Hall, Southbank Centre
–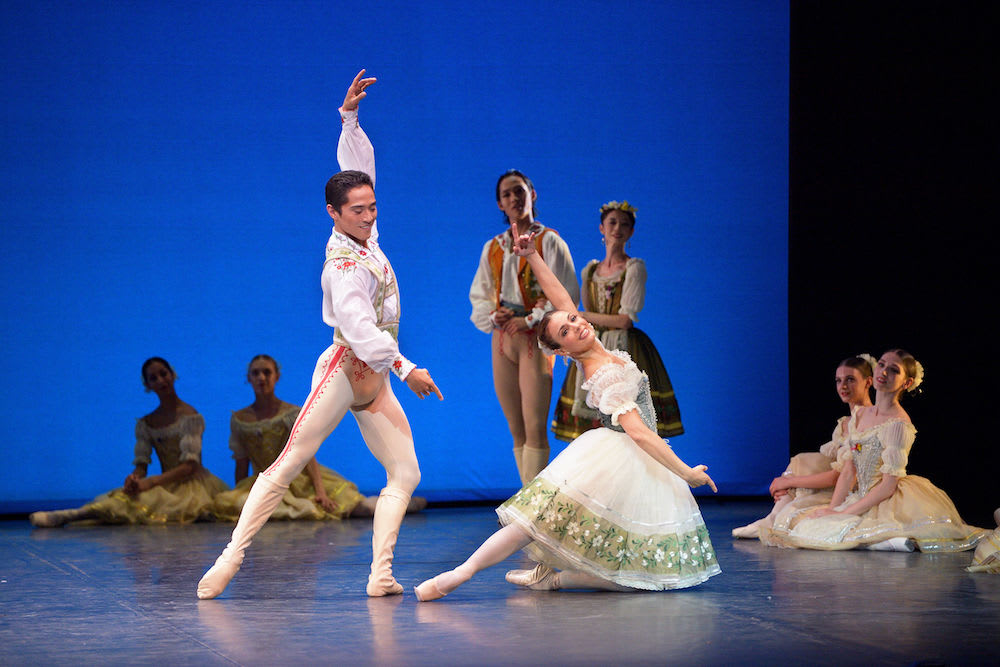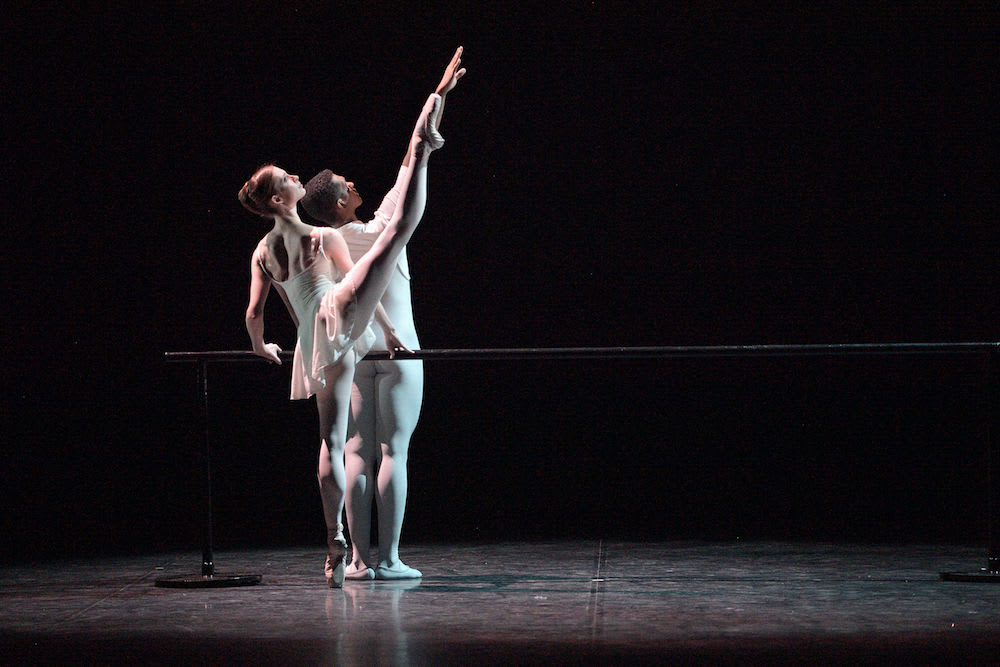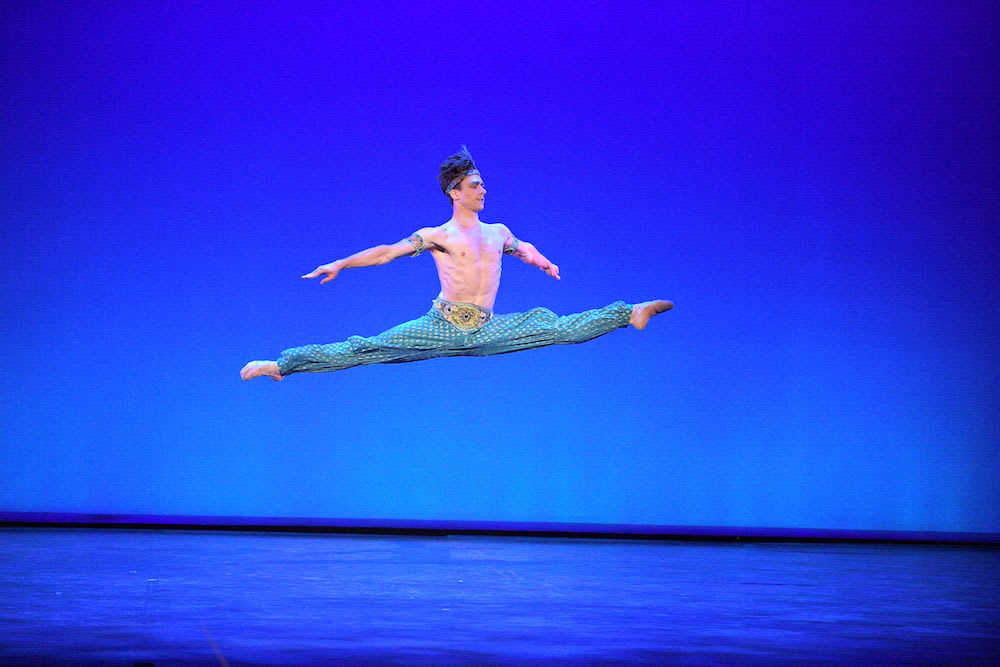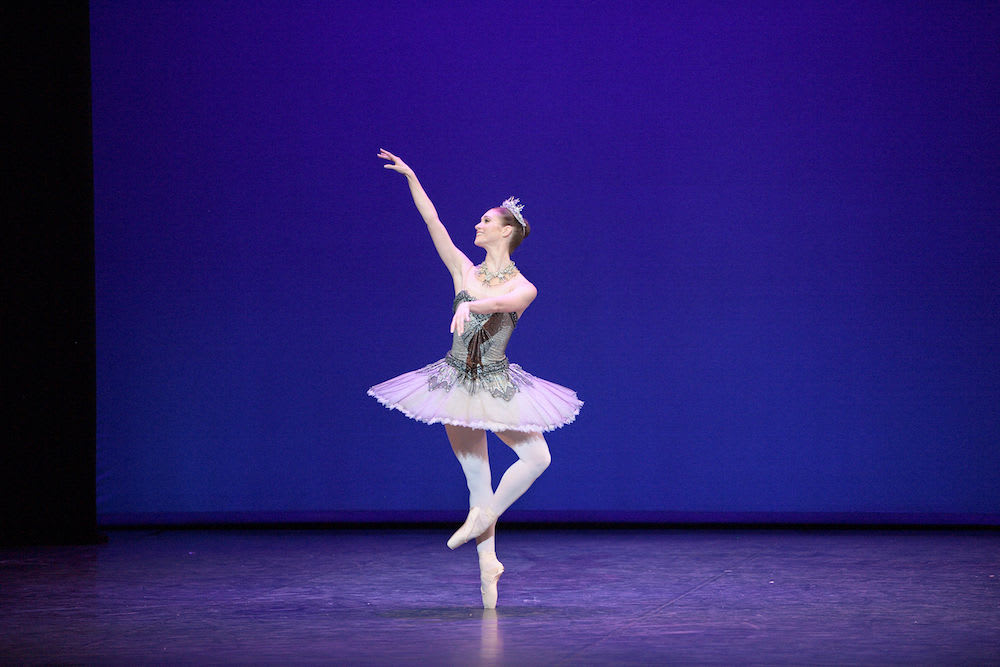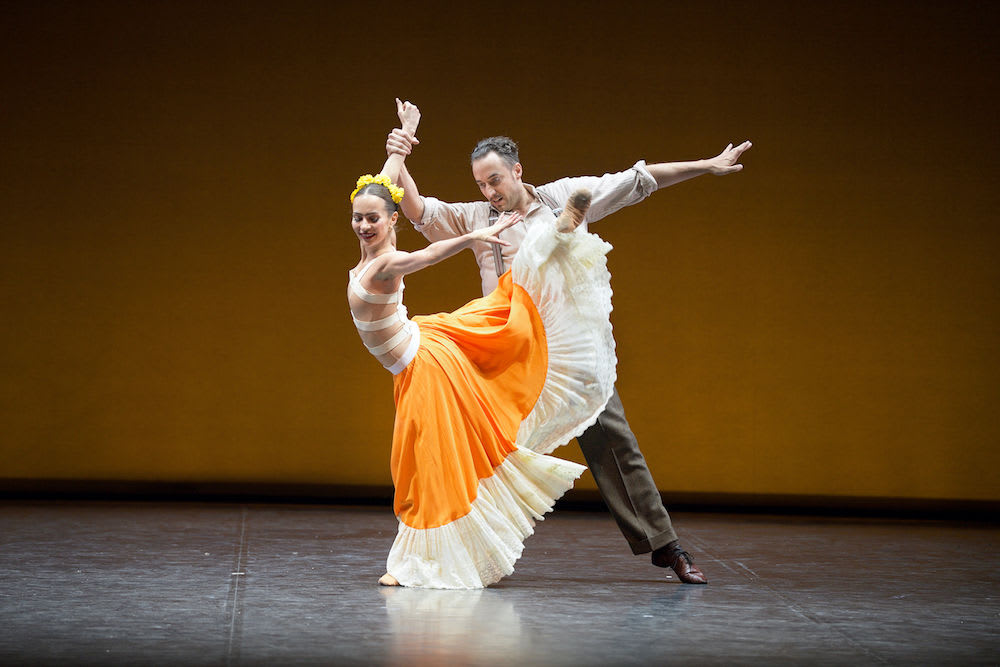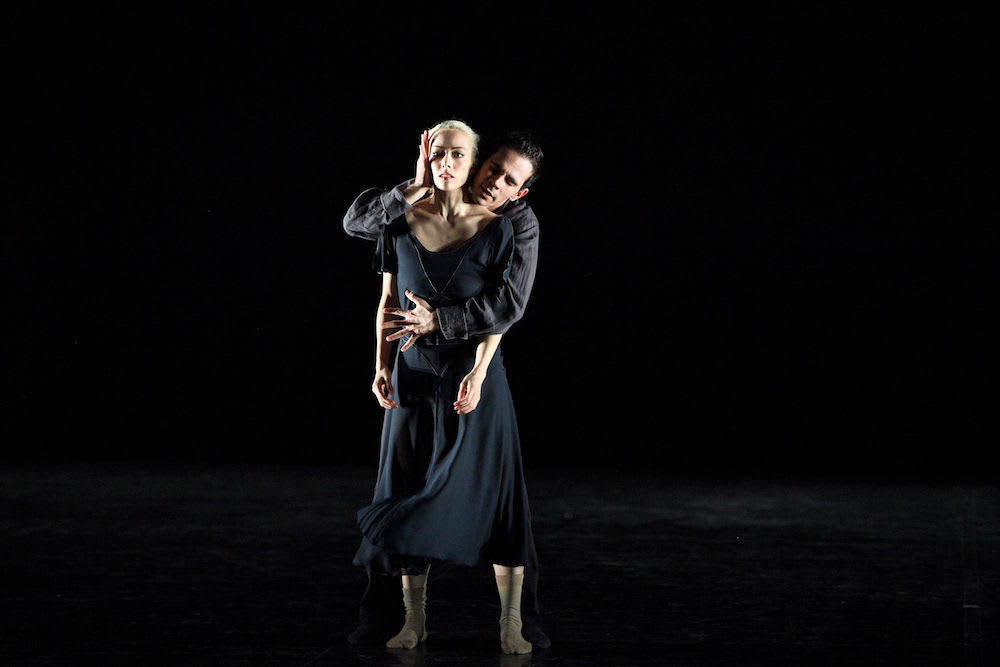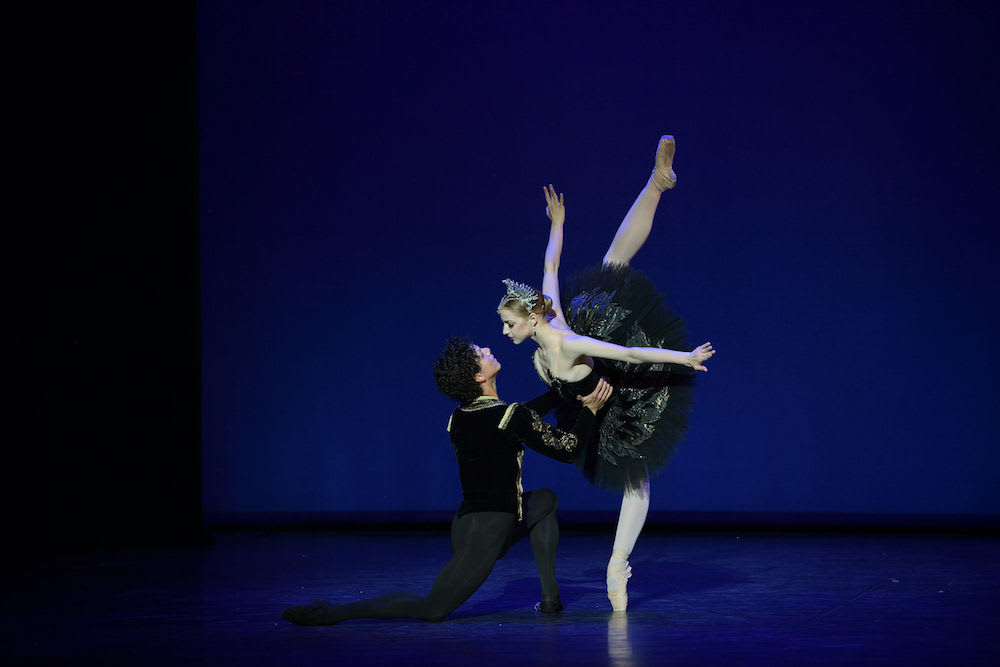 Ninety minutes or so of another generous evening of dance from English National Ballet: they follow May's Reunion return to Sadler's Wells with Solstice, a gala mix of nine short works, classics old and new. A hopeful title, solstice the 21st of June, the end of lockdown, but events these days have a way of undermining the best-laid plans.
But not undermining the appetising programme of dance: select extracts from four nineteenth century classical ballets in ENB's repertoire (Coppélia, Le Corsaire, The Sleeping Beauty, Swan Lake), and five newer additions (Dust, Three Preludes, Broken Wings, Hollow, Playlist (Track 1, 2)). My internal clap-o-meter reliably tells me the latter five please the audience the most. And these five fare better on a stage with no set.
Charming young couple Swanilda and Franz (Fernanda Oliveira and Jeffrey Cirio) open proceedings with Coppélia (Act III medley), which brings its own jolly setting in vibrant folk costumes, an entourage of bridesmaids, their escorts, and twelve village girls framing their celebrations.
After the wedding celebrations come Akram Khan's Dust and its tragedy of war. Real life couple Erina Takahashi and James Streeter understand the long-term underpinning of a marriage, the promise for better or worse. Street is a traumatised man; Takahashi as much traumatised as he by his anguish and PTSD. Trauma is passed on in families, who often take the brunt as much as the troubled soul.
Their performances are real (Streeter is a fine dramatic actor) and, in the tangle of their inseparable bodies, they become a hybrid creature. In Russian, there's a saying, man and wife constitute one Satan—here they are trying to undo Satan's work. Jocelyn Pook's music, incorporating the old WWI song "we're here because we're here", brings added poignancy to Khan's dramatic sculptural retelling.
Decompression is needed after that intensity, and we get Ben Stevenson's 1973 Three Preludes (First Movement pas de deux) to Rachmaninoff with Julia Richter on piano. Cool, serene, all in white, Emma Hawes and Junor Souza, on either side of a barre, mirror and reflect each other's moves. There's a lovely moment when his raised arm and her leg in high extension are in parallel symmetry. The barre barrier is crossed and they dance together. Beautiful.
The larger Coliseum stage would be handy for Francesco Gabriele Frola's Ali's leaps as he defies gravity with all his might in Le Corsaire, though Shiori Kase's sure-footed Medora could spin on a coin. Such incredible control, she deserves the cheers from the auditorium. But, The Sleeping Beauty that follows, with Alison McWhinney giving a lovely performance, looks too much out of its natural setting in the Jewels variations.
Katja Khaniukova and Fabian Reimair (in fat suit) are Frida Kahlo and Diego Rivera from Annabelle Lopez Ochoa's memorable Broken Wings, Khaniukova (a worthy successor to Tamara Rojo in the role) in particular looks to be enjoying herself teasing Reimair, running rings round him. And the recording of Charvela Vargas (apparently she had an affair with Kahlo) singing "La Llorona", incorporated into Peter Salem's score, sends shivers down the spine.
Stina Quagebeur's Hollow I once said was a keeper and this performance by the original cast of Emily Suzuki and Victor Prigent proves me right. No doubt it chimes with many depressed by the last year and a half. He is solicitous; she pulls away; he persists and succeeds. Dust and Hollow seem to address us directly. A recording of the plangent "Il bell'Antonio, Tema III", composed and arranged by post-minimalist composer Giovanni Sollima, performed by his friends Yo-Yo Ma and Kathryn Stott on their album Songs from the Arc of Life, couldn't be more apt.
Natascha Mair and Isaac Hernández perform a favourite gala piece, the Black Swan pas de deux from Swan Lake, but I am still lost in Hollow until William Forsythe's Playlist (Track 1, 2) dispels and lifts the mood with a galvanising showing from ENB's male dancers—and I must mention them all: Jeffrey Cirio, Joseph Caley, Fernando Carratalá Coloma, Miguel Angel Maidana, Noam Durand, Daniel McCormick, Rhys Antoni Yeomans, Skyler Martin, Henry Dowden, Erik Woolhouse, Aitor Arrieta, and Ken Saruhashi.
A team in sports kit with names on t-shirt backs dance in formation, in three units of four, in serried rows, in solos, and they are dynamite. There is no stopping their swagger, feet flash, arms fly, they are so cool. The music helps, recordings of neo-soul and house music "Surely Shorty" by Peven Everett and "Impossible" (Jax Jones Remix) by Lion Babe. Street culture has hit neo-classical ballet, and I for one can't get enough of it. Nor can the audience.
Gavin Sutherland conducts the English National Ballet Philharmonic in front of my nose as if his and the dancers lives depended on him—and believe me they do. So close one can see his control of them as much as the orchestra, who are on terrific form.
Reviewer: Vera Liber