Life: A Love Letter to Merce Cunningham
Director Sean Gandini, music Caroline Shaw
Gandini Juggling in collaboration with the Merce Cunningham Trust
Lilian Baylis Studio, Sadler's Wells
–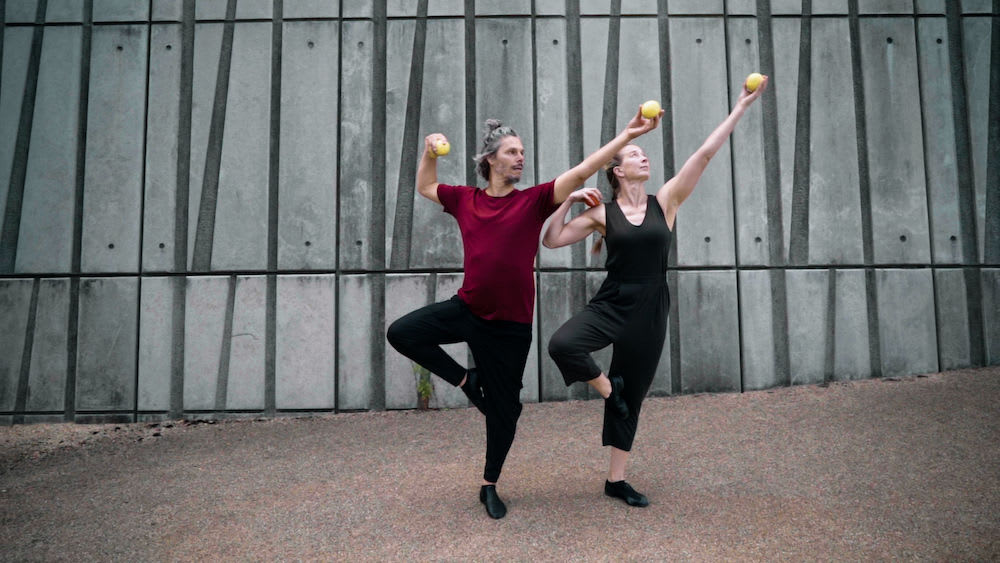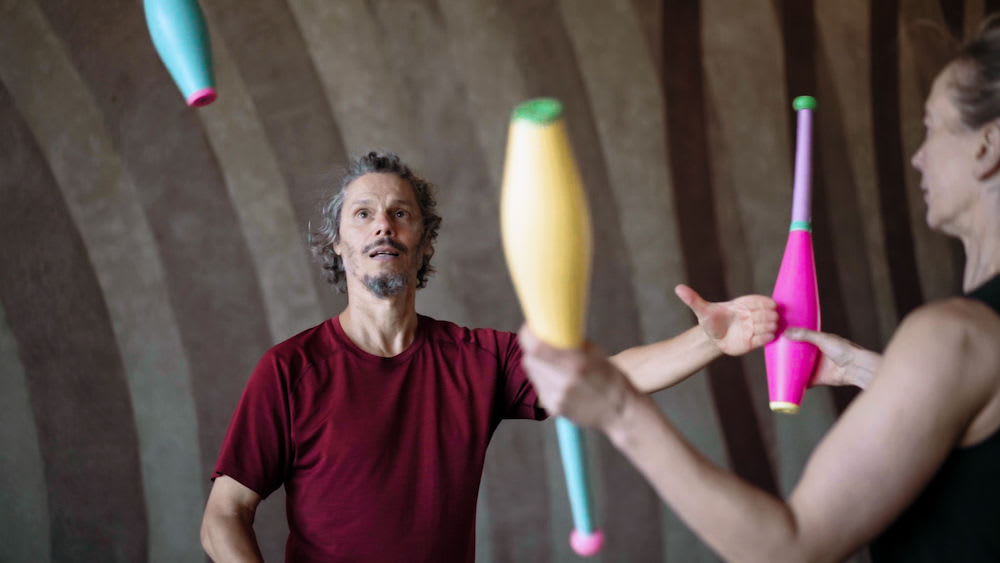 'Cunningham' chance almost made me miss this new work from Gandini Juggling opening the LIMF festival season (it runs to 6 February); fine chance also gave me the last ticket for the last performance of Life: A Love Letter to Merce Cunningham at the Lilian Baylis studio. And isn't chance an element in juggling?
Juggling may be a circus skill, but in the hands of co-founders Sean Gandini and Kati Ylä-Hokkala it is something else, combining as they do dance, mathematics, geometry and philosophical speculations. And a visible deconstruction of the ace deconstructivist of modern dance: "something new that retains the essence of the original".
Tonight is as much tell as show. Gandini introduces us to the simple art of juggling with Ylä-Hokkala as his demo companion and then with tongue-in-cheek wit explains that the 'drop' is "philosophical contemplation". So dropping the ball, club or hoop is also down to chance… nothing to sweat about. And do I hear Gandini casually mention Schoenberg? Hints and clues he wants his audience to grasp.
Cunningham fits the company perfectly, his iconic random moves and poses, balances, pliés, battements, arabesques with the addition of keeping one's balance whilst juggling, or passing the ball or hoop or club on. I think I see his Sounddance choreography. I wonder does Gandini also use computers à la Cunningham to construct his seventy-minute show?
Many in the company—tonight only nine—have dance training and Jennifer Goggans, former Cunningham company dancer and now consultant, has learnt to juggle. This show is her juggling debut. If only Cunningham were here to see it. Patterns and Cunningham arms, stillness and slow motion, composure and pose—whilst juggling, that takes some doing.
In simple jeans and white t-shirt outfits, to Caroline Shaw's soundscape ("Love Letters about abstraction"), with Guy Hoare's lighting an essential part of the choreographed evening (Goggans commands her lighting setting). Yes, they talk (in a mime festival) and sing and speak in other tongues, all part of the cacophony of life. There are lifts, pas de deux, de trois, solos and group interaction. Timing and counting are de rigueur.
More minimalist than their other homage to a notable choreographic figure—they channelled Pina Bausch in Smashed—whatever they do is worth a look. According to Gandini, "at heart, this piece would be a love letter to one of the artists who has influenced us the most." They spent eighteen months studying Cunningham, creating this love letter, and "three decades watching and being inspired by his work".
Formed in 1992 by Sean Gandini and Kati Ylä-Hokkala, Gandini Juggling is still as inquisitive as ever. Is Sean Gandini the intellectual of the juggling world? I've long admired the company's works, their reach into other artistic areas, their collaborations in opera (Akhnaten), with aspiring young choreographers (Alexander Whitley in Spring, Ludovic Ondiviela in 4x4: Ephemeral Architectures).
But there's more that doesn't meet the eye in performance: "we feel like there is an element of digital mathematical artwork to be integrated into the piece. The thoughts about this are still embryonic. Since the initial idea is to map a piece from one art form into another, a transmutation. We wondered about a further real time mapping of the work into another medium. Maps of maps. Geometry and exhilaration."
Exhilaration is the word. They have a loyal global audience. I can hear the different accents in the audience. There's cheering and the bizzare gift of tins of sardines slid across the stage at the end… What a way to finish their five performances—with an absurdist gift. Not quite in the lobster telephone league, but still…
Reviewer: Vera Liber