Relatively Speaking
Alan Ayckbourn
Richmond Theatre
–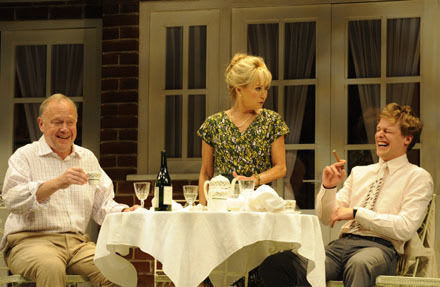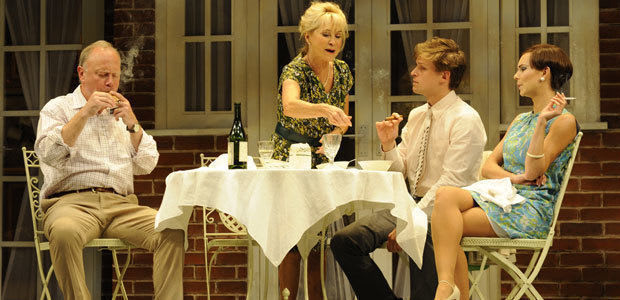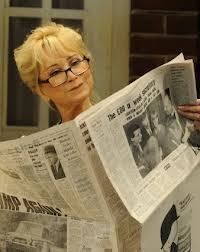 2012 has certainly turned into something of an impromptu Alan Ayckbourn fest in British Theatreland. Ayckbourn's seventy-fifth play Neighbourhood Watch toured earlier this year before pitching up at London's Tricycle; Jeremy Herrin's production of Absent Friends appeared in February at the Harold Pinter Theatre and that theatre is now playing host to Trevor Nunn's just-opened revival of A Chorus of Disapproval.
Meanwhile, Ayckbourn's attempt at a ghost story, 1994's Haunting Julia, is touring again, and it's now joined on the circuit by Lindsay Posner's production of Relatively Speaking— Ayckbourn's 1967 comedy and first West End success—produced by Theatre Royal Bath Productions. None of these revivals has done much to win over those unconvinced by Ayckbourn's status as a major British dramatist. And, alas, Posner's forced and charmless production proves to be perhaps the weakest yet.
The plot centres on a series of—allegedly hilarious—farcical misunderstandings. Ginny (Kara Tointon) informs her boyfriend Greg (Max Bennett, fresh from the West End run of Posh) - who's just proposed to her—that she's going to visit her parents in Buckinghamshire, and that she doesn't want Greg to accompany her on the trip. Greg, however, decides to follow her there, with the intention of asking her parents' permission to marry her, and pitches up at the house of Sheila (Felicity Kendal) and Philip (Jonathan Coy) before Ginny arrives. It turns out, though, that the couple aren't Ginny's parents at all, but that Philip is actually Ginny's lover, whom she's attempting to rid herself of.
As with much of Ayckbourn's work, it's tempting to call Relatively Speaking "sitcom-esque." But to do so seems a slight on even the most inept sitcom. The play's premise is paltry and paper-thin, without an ounce of the credibility that even the broadest situation comedy requires, and Ayckbourn's development of it never builds up a head of steam.
In the programme essay, Al Senter valiantly attempts to make a case for the play as capturing its historical moment and reflecting "the profound changes that were convulsing British society during the 1960s." But, despite a smidgeon of male nudity and a suggestion of pre-marital sex in the (deathly) opening scene, this kind of social awareness simply isn't in the play. Indeed, it seems almost inconceivable that, while Relatively Speaking was enjoying its first West End run, Joe Orton was penning his biting, scabrous satires and Simon Gray's razor-sharp Butley (itself so beautifully revived by Posner last year) was only a couple of years away.
This could be forgiven, of course, if the play offered some genuinely witty lines and exchanges. But Ayckbourn's trite, rhythm-less dialogue continually lets you down. Primed to laugh, the audience latches—sometimes maniacally—onto any opportunity for release, with the result that a line as innocuous as "Shall we play bridge?" is greeted by gales of overzealous guffaws by the end.
The characterisation is so insipid that the actors are up against it from the start. Tointon tends to read her lines flatly, with the same intonations, while Kendal flaps around in a vain attempt to make Sheila's ditziness endearing. There's a moment close to the end when it seems that Ayckbourn is going to give this character a chance to show some real spark and awareness, but the opportunity is quickly sacrificed. Bennett has some effective moments and Coy delivers the crispest performance.
But overall this is a disappointingly weak production of a mild, obvious and terminally bland play.
Reviewer: Alex Ramon