The Seagull
Anton Chekhov
Satirikon Arkady Raikin Russian StateTheatre, Moscow
Stage Russia HD
–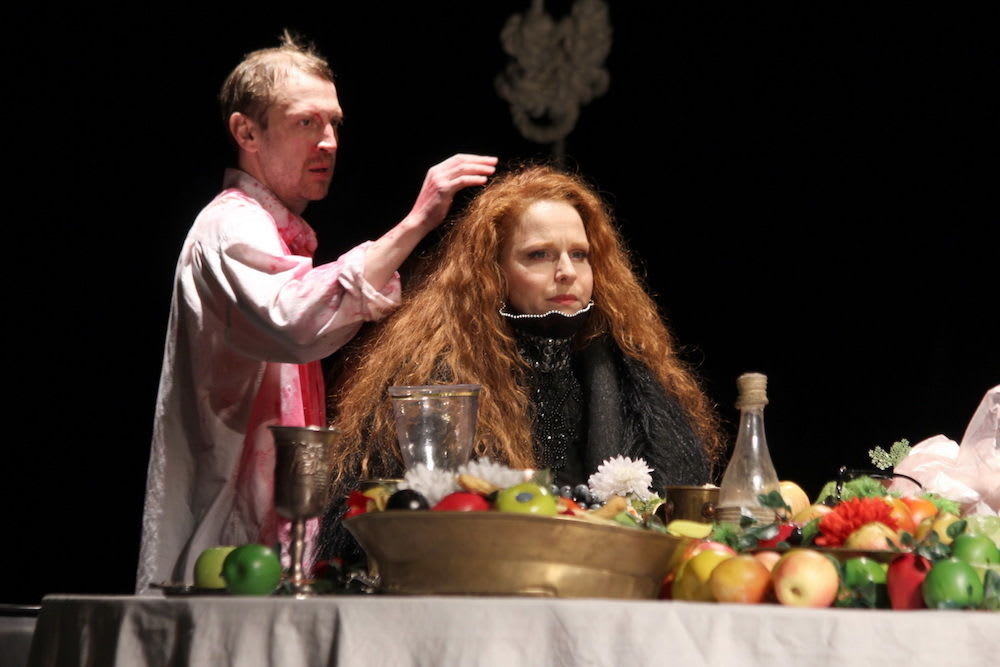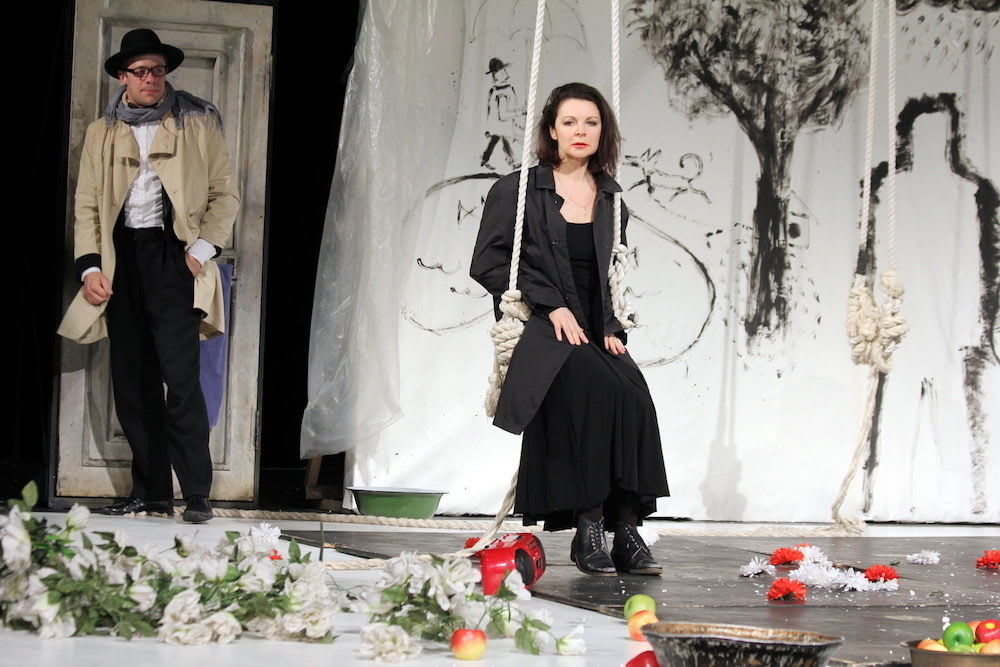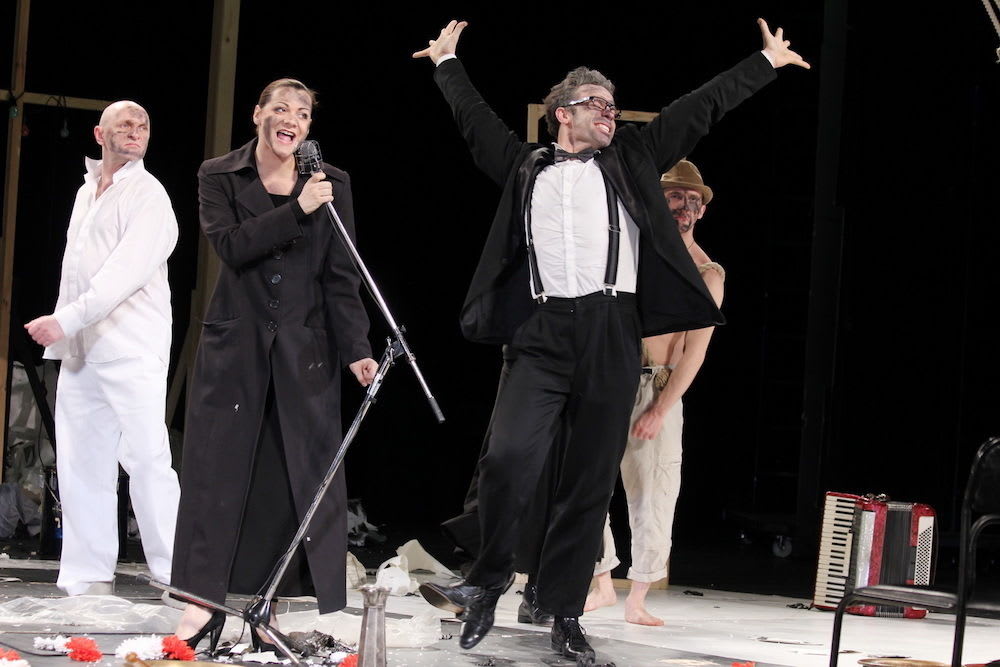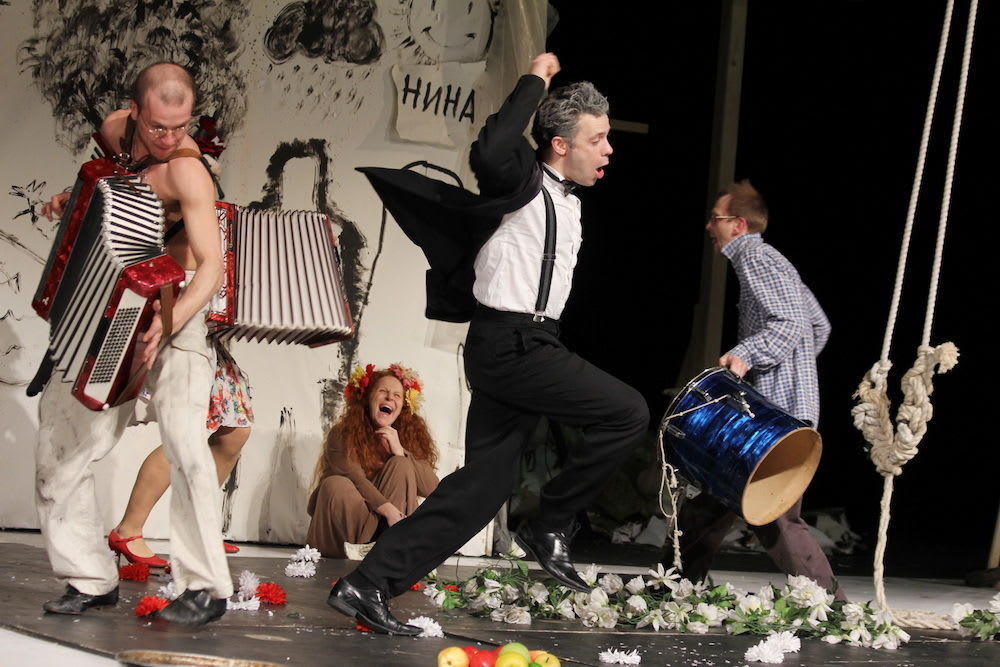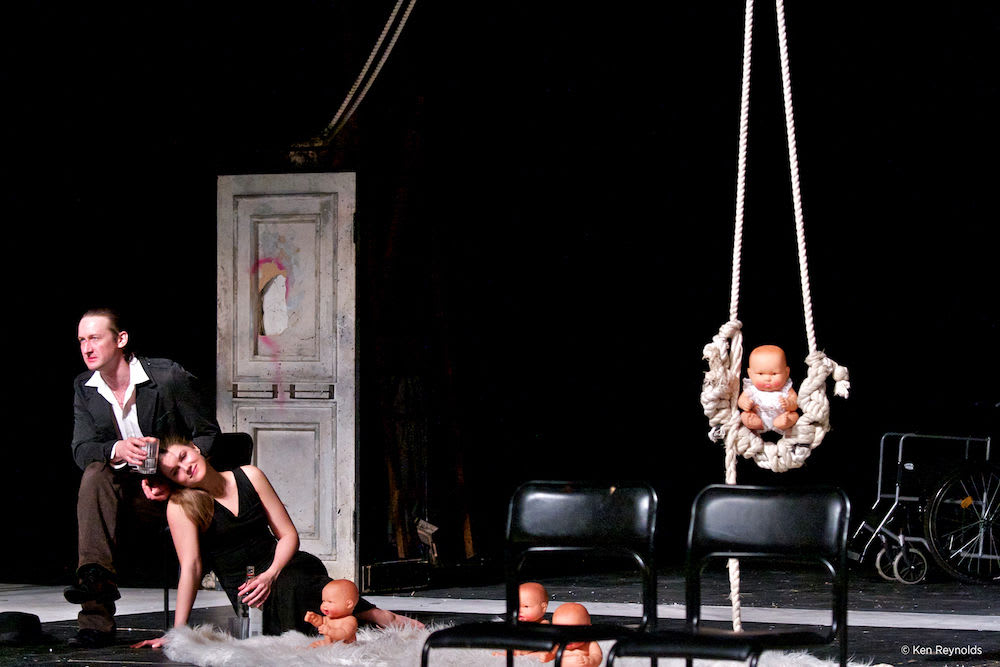 This expressionistic Seagull is Konstantin's play as director Yury Butusov imagines he'd have liked it—new forms and all that—and Butusov sees himself as Konstantin Treplev (never mind actor Timofey Tribuntsev cast in the role), the sidelined son of famous actress Arkadina (mostly Polina Raykina—all hands and deliberately overacting—but occasionally Lika Nifontova, who is really Polina). He makes sure of that with his bandaged head and in the final act he speak-shouts Konstantin's lines. It's about the theatre, silly, and big egos.
Butusov's empathy knows no bounds. Not only that but he invades his own production. In jeans and t-shirt, looking like a roadie or a techie, he dances amongst the scenic chaos at the end of each act. An ageing, air-guitar-playing punk rocker, he destroys the set and his mic stand à la The Who. What a trip for him. An exhausting one for the viewer, though the music keeps one going.
Is that T-Bone Burnett's "It's Not Too Late"? And I've always loved the late Faustas Latenas's (died last November much too young) evocative theatre compositions (Uncle Vanya, Smile Upon Us Lord, Eugene Onegin and many more for Vakhtangov theatre). Latenas has been described by Daiva Parulskienė as "a real enfant terrible", his music labelled "exaggerated banality, irony, and musical hooliganism". He said, "I have always regarded theatre as a refreshing current in my concert music, something like an islet where one is free to incarnate the most radical, banal, or quirky thoughts, because the attitude to theatre music has always been more lenient". He and Butusov were obviously on the same page.
On a makeshift set (design Alexander Shishkin), evolving and being destroyed as it goes (reminds me of Dmitry Krymov and his Laboratory), the stage littered with props and odd detritus, the actors (in casual wear mostly) overlap and take on each other's roles, double, perform in stereophonic duplicate (duality I guess) and shout past each other to the audience. It gets to you, this histrionic shouting. Dorn's comment that a quiet angel has flown by gets a laugh from the audience.
Lines are spoken with cartoonish artifice, and the hysterical cacophony is overwhelming at times. No one is listening, that's Chekhov's perception: we talk past each other and never listen. Egocentrics all. Scenes are repeated with different actors and the stage is a battlefield. Does everyone want to be someone else? What a neurotic puerile unreliable lot.
Conceptual YBA-style installation set—as messy as Tracey Emin's bed—there is much to decipher. Everything but the kitchen sink—well, there is a copper bath and shower and lots of apples. We are in the country… Nina (Agrippina Steklova) stuffs her mouth with apple chunks till her cheeks bulge. Plastic baby dolls, car tyres, accordion, transistor radio, rope swings, actors' dressing tables, lots of flowers, lots of blood and a painted paper backcloth all the easier to rip up.
Read the semiotics of the set. "Here's the theatre. First the curtains… behind it empty space". And… a dog pissing up a sketch of a tree (Anton Kuznetsov who also plays Shamraev and Medvedenko)… and an extra in the form of a "Dancing Girl" (Marina Drovosekova is a handy doppelganger, and a good mover, I must say). Tricks of the trade are made visible. It's a madhouse and the inmates have taken over the asylum. Pure anarchy. Physical theatre, with no subtle subtext. Nina walks on Konstantin's hands and he kisses her feet.
An alienating production, I did not warm to it, but then I wasn't supposed to. For me, the dynamics were dissipated with so much stage business. Brechtian Verfremdungseffekt, which naturally better suited Butusov's over the top The Good Person of Szechwan production for Moscow Pushkin Drama Theatre (2019 Barbican)—The Seagull also comes in at three and a half hours.
Though I hear it was five hours (with intervals) in the theatre. Excessive, repetitive, in yer face... One is not drawn to any of them, apart from Tribuntsev as Konstantin, who is almost normal. Poor chap, at the end his dead body is dragged off with the rest of the dismantled set. He looks older than his mother and probably is—age is immaterial in casting, by the look of things. We're all the same in our heads. Immature children. Arkadina has a very girly voice. And we die many times.
All frustrated, the successful and the wannabees, all hanging on to love, but most find their love is unrequited or a transaction (Trigorin's certainly is). No one fits, most are shallow and life is banal. Chekhov jaded at such an early age… was he a depressive or was he taking the piss? I've always seen him as Beckettian rather than Brechtian.
Filmed before the COVID plague, it was wonderful to hear theatre and audience buzz albeit on screen (and the 'please turn off mobile phones' announcement), but did I see people leaving or were those heads moving just in camera shot latecomers?
"Strange play. I didn't understand a thing", Trigorin says of Konstantin's play, "scenery was good." "Such tedious people", Dorn says. Is Butusov putting words into our mouths? Nina has a dream to be an actress, but The Seagull seems a nightmare. Is time merely out of joint for them? Someone says Konstantin's play is " so boring", and Butusov is Konstantin—is he sticking two fingers up at the audience? "This is theatre for you", Butusov / Konstantin says as he sprays his left nipple black, or is that black red blood? "No talent only pretensions". But we must have "the strength to endure" according to Nina. Endure we do.
Reviewer: Vera Liber