Year of the Fat Knight
Antony Sher
Nick Hern Books
Released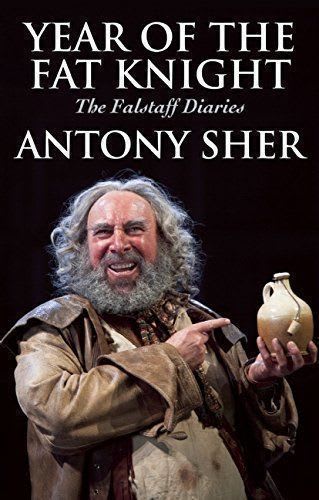 For anyone that was not already aware of the multiple talents that Sir Antony Sher boasts, Year of the Fat Knight provides a perfect introduction.
The book has been written to record his experiences in the lead up to the opening of the RSC's Henry IV plays in Stratford during 2014, prior to further success at the Barbican.
While his fame has come as an actor, this volume is written with confidence and skill, always holding the attention. To add to the impressive impact, the author has also included dozens of his own illustrations, some in colour. These feature not only himself but his fellows from these plays, the theatrical profession and others who have made the role of Falstaff their own over the last few decades.
Perhaps the biggest surprise comes in the early pages where we discover that one of his generation's best and most versatile actors felt unexpected insecurity when asked by the RSC's new Artistic Director (and his partner) Greg Doran to consider the role.
Sir Antony seems bent on finding reasons not to play the part, even though as eventually demonstrated, the casting was perfect. Having accepted the offer, it still took practically the whole period from initial conversations to press night before he was eventually persuaded that this would be the case.
The book starts over a year before, when Sir Ian McKellen became the latest in a long line of distinguished (and in several cases in ennobled) actors to turn down the opportunity to take on the role of Falstaff for the director.
Almost as an afterthought, Doran proposed it to his partner, who had just finished playing in Travelling Light at the National.
The misgivings continued for some time, during which Sir Antony became Sigmund Freud in Terry Johnson's revival of Hysteria at Hampstead.
Eventually, he agreed to give it a go, like Lord Olivier taking almost as much care over his appearance and inevitable fat suit, before fully embracing the role.
From then on, the book becomes an object lesson in how an actor prepares himself for a role, comparisons appearing along the way as he talks of the methodologies of what sounds like a great cast of fellow actors. It is never heavy going though, the writer's sense of humour regularly finding its way through the serious moments.
By the end, nobody could be in doubt that this was to be yet another triumph both for Sir Antony Sher and the whole company in a worthy production that was both inventive and enjoyable for all on both sides of the metaphorical proscenium arch.
In passing, the inception of the magnificent new centenary production of Death of a Salesman, in which the actor excels himself as Willy Loman opposite Dame Harriet Walter, is marked.
One hopes that the next volume of diaries might take readers behind the scenes of that experience.
Reviewer: Philip Fisher