The Scotsman Fringe First Awards
Published: 25 August 2013
Reporter: Sandra Giorgetti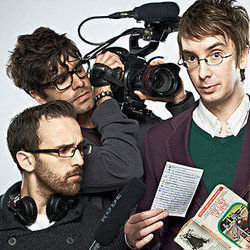 Now in its 40th year, the The Scotsman Fringe First Awards continue to celebrate innovation inand challengingall genres at Edinburgh's Fringe Festival.
Although there are no cash awards to winners, Fringe First plaques are a prestigious adornment to a theatre practitioner's wall or mantelpiece; a 1974 winning company included Simon Callow who says of the award "It was great… We transferred to London and were a smash hit all over again, then opened in the West End. But we were always conscious of the halo conferred by the award."
Other past winners include many now-famous names amongst them Stephen Fry, Rowan Atkinson, John Godber and David Greig.
This year's winners are:
Week 1
Feral - Tortoise in a Nutshell in co-production with Cumbernauld Theatre - Summerhall
Grounded - Gate Theatre, London - Traverse Theatre
Ciara - Traverse Theatre & Datum Point - Traverse Theatre
Quietly - Abbey Theatre - Traverse Theatre
Nirbhaya - Assembly, Riverside Studios and Poorna Jagannathan - Assembly Hall
Donal O'Kelly's Brace - Fionnuala and Skeffy - Donal O'Kelly - Hill Street Theatre
Kiss Me Honey Honey - Gilded Balloon - Gilded Balloon Teviot
The Events - Actors Touring Company, Young Vic Theatre, Brageteatret and Schauspielhaus Wein - Traverse Theatre
Week 2
These Halycon Days - Landmark Productions - Assembly Hall
Theatre Uncut - Theatre Uncut - Traverse Theatre
Dark Vanilla Jungle - Supporting Wall - Pleasance Courtyard
Dumbstruck - Fine Chisel - Zoo
Fleabag - DryWrite - Underbelly Cowgate
Water Stain - Armazém Theater Company - Venue 150 @ EICC
Week 3
For Their Own Good - Untied Artists - Summerhall
Gardening: For The Unfulfilled and Alienated - Undeb Theatre - Pleasance Courtyard
Credible Likeable Superstar Rolemodel - Bryony Kimmings / Escalator East to Edinburgh - Pleasance Dome
Choose Your Own Documentary By Nathan Penlington - CYOD Ltd - Gilded Balloon Teviot
Mercy Killers - Harold Clurman Lab Theater - Assembly Hall
Freeze! - Big in Belgium, Richard Jordan Productions, Drum Plymouth, Theater-aan-Zee, Summerhall - Summerhall
Four decades of the Fringe Firsts has been celebrated with a series of events.
Details of The Scotsman Fringe First Awards and other awards for the year may be found at www.edfringe.com/participants/awards#NSDF