All Forsythe: In the Middle, Somewhat Elevated / Neue Suite / Enemy in the Figure
Choreography by William Forsythe
Semperoper Ballett (Dresden)
Sadler's Wells
–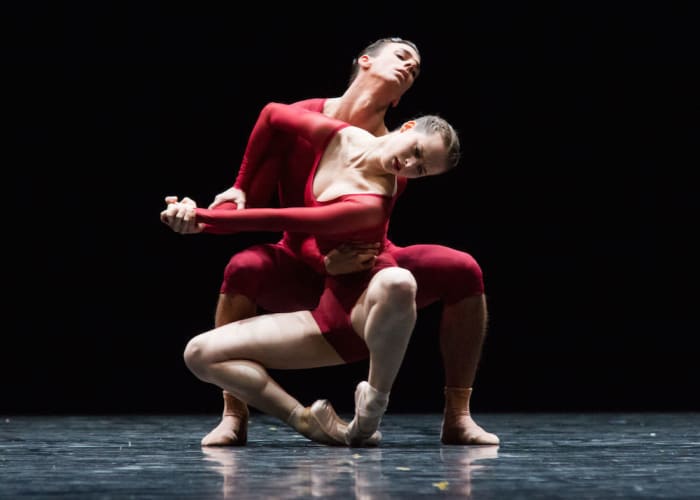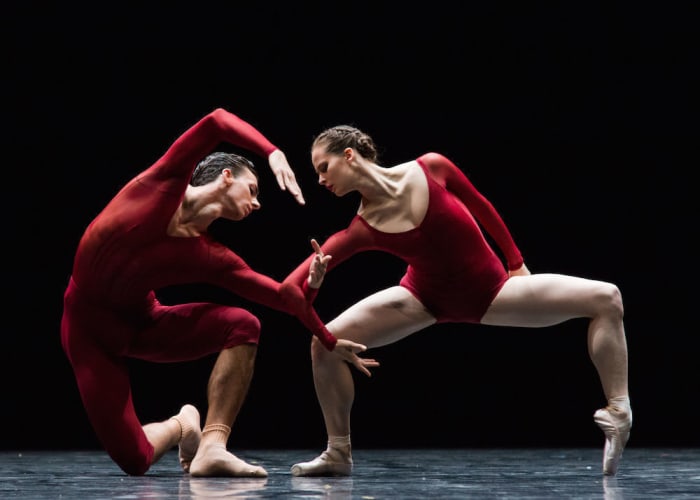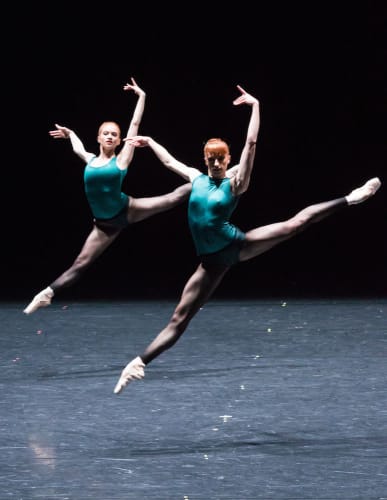 Tonight's triple Forsythe bill shows off the range of his dynamic, quirky dance vocabulary, and Semperoper Ballett—on their first visit to London—company's intimacy with his oeuvre.
Or, at least, that must be the intention. One very familiar work; a series of rearranged duets from the 1990s; and a curious one from 1989, new to me, performance art / dance theatre / installation number Enemy in the Figure. Go figure that one out.
Half an hour of intrigue on a shadowy set dissected by a 'Richard Serra' screen sculpture, obstructing sightlines, making it a little subjective. What do we see that those on the other side of the auditorium don't? And vice versa?
It also reminds me of Crystal Pite's bleak warehouse Betroffenheit set. A rope ripples and snakes across the floor, occasionally caught on the foot of a dancer. Is it the piece's heart monitor, its pulse?
Focus is distracted, deliberately divided: attention is directed by a wheeled, choreographed floodlight to a body in white lying on the floor at the back, to dancers centre stage, but what lurks in the dim sidelines, where do we look? Wherever we want.
Is the person repositioning the prone one's limbs a sculptor, a Pilates trainer, the choreographer? Why are these young men climbing up the sidewall? Figures, bas-relief figures, slink and clutch at the opposite wall—is this a museum, or the mind's interior, an asylum?
Thom Willems's cinematic score, full of portent, hums; figures (eleven in total) in white and in black, photos and their negatives, move under the light's pointing finger.
A comic chap in fringed shorts and polka dot shirt leaps like a caveman or a caged animal in a zoo; other simian and avian creatures come out to play. I am reminded of Aszure Barton's Fantastic Beings. Rope and cable trail underfoot.
Sound turns punchy, syncopated, the dancers throw themselves at the partitioning screen, bounce off its plywood structure. Light turns roseate, are these fantastic beings prehistoric wall paintings come to life? Chaotic perpetual motion, dance's genomic evolutionary DNA impossible to confine.
In the middle—no not that one—we have his Neue Suite, eight pas de deux to Händel (Concerto Grossi Op. 6), Berio (Duett Für 2 Violinen, Vol. 1) and Bach (Allemande Partita No. 1), made for Semperoper Ballett in 2012.
Baroque and experimental music, andante and allegro, classical and modern moves—gymnastic high extensions, loose wrists—respond to, and illustrate, the music's moods and phrases with their own sculptural abstractions and complexities. One could weave a narrative.
A dreamy middle, an inscrutable finale, but first is the familiar, joyous, In the Middle, Somewhat Elevated, "a work that famously changed ballet forever with its deconstruction of the classical ballet technique". Its visual geometry and trigonometry gets me every time.
This work London has been privileged to see many times. ENB showed it in 2017 and 2015, The Royal Ballet of Flanders brought the full four-act work, Impressing the Czar, of which it is the second 26-minute act, in 2008. Originally created in 1987 for Paris Opera under Nureyev, Ballet Frankfurt premièred it in its full-length version in Frankfurt am Main in 1988.
Only nine dancers (seems more), two women to each man, flash and dazzle, skid and skim, in explosive dance to Willems's explosive machine-age musical score. I never tire of it. A conveyor belt of motion, sabre-sharp arms and legs industrial levers, individually programmed, precision robots attack and articulate impossible choreography.
Preying mantis and long spidery legs, they can walk in unison like normal human beings, too, and measure the rehearsal room space as Forsythe explores its architecture. Cool and sexy numbers, it may be deconstructed classical ballet—once you notice the flicking hands, you can't escape them—but its exact discipline endures.
Dresden's Semperoper Ballett, under the artistic directorship (since 2006) of Aaron S Watkins, has a special relationship with William Forsythe's work. Watkins, a former principal dancer with Ballet Frankfurt during Forsythe's 20-year tenure as director, later invited to be his personal choreographic assistant, also has in his stable as ballet master, Laura Graham, who has previously danced leading roles (Ballet Frankfurt) in several of tonight's offerings.
She, too, is one of his choreographic assistants and sets Forsythe's work across the globe. Though Forsythe likes to do his own light design, lighting supervisor Tanja Rühl has worked with her mentor since 2002 and must take some credit.
Quite a formidable Forsythe team—not forgetting stage supervisor Patrick Lauckner with The Forsythe Company since 2011—to oversee Semperoper Ballett's presentation of the master's creations reworked on its sleek dancers. The dancers are superb: a company of twenty, it wouldn't be fair to single anyone out. Praise heaped on all.
Quite a body of work, not just in dance, but video, installation, performance art, improvisation, technology, constantly searching for new territory. Forsythe has shown at the Tate Modern (2009), is a favourite at Sadler's Wells, recently created new work for the English National Ballet. His imprint is everywhere. Structured randomness, I once called it, and that still holds.
Prolific for some forty-five years now, Forsythe has left his mark not only on neoclassical ballet but also on many younger choreographers—one sees it in Michael Clark and Wayne McGregor to name but the first that spring to mind. He has extremely loyal fans.
I could go on, but you get the picture. There's an added bonus tonight. "His relationship with us is so personal: he knows every single person in our company", says Watkins, and it shows.
Reviewer: Vera Liber