Ballet Icons Gala 2021

Ensemble Productions
London Coliseum
From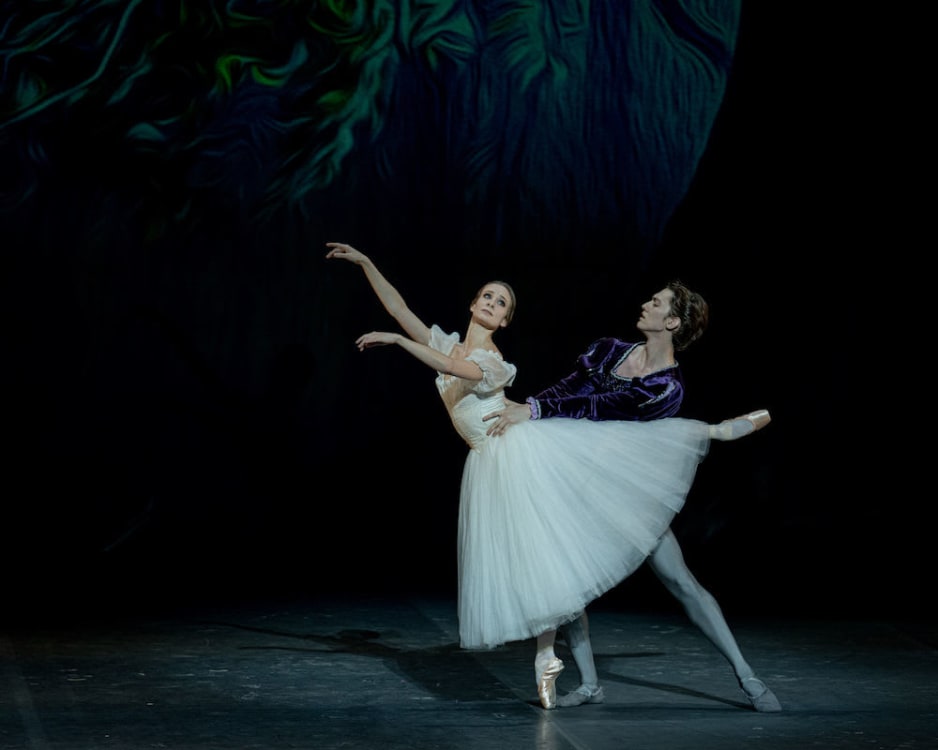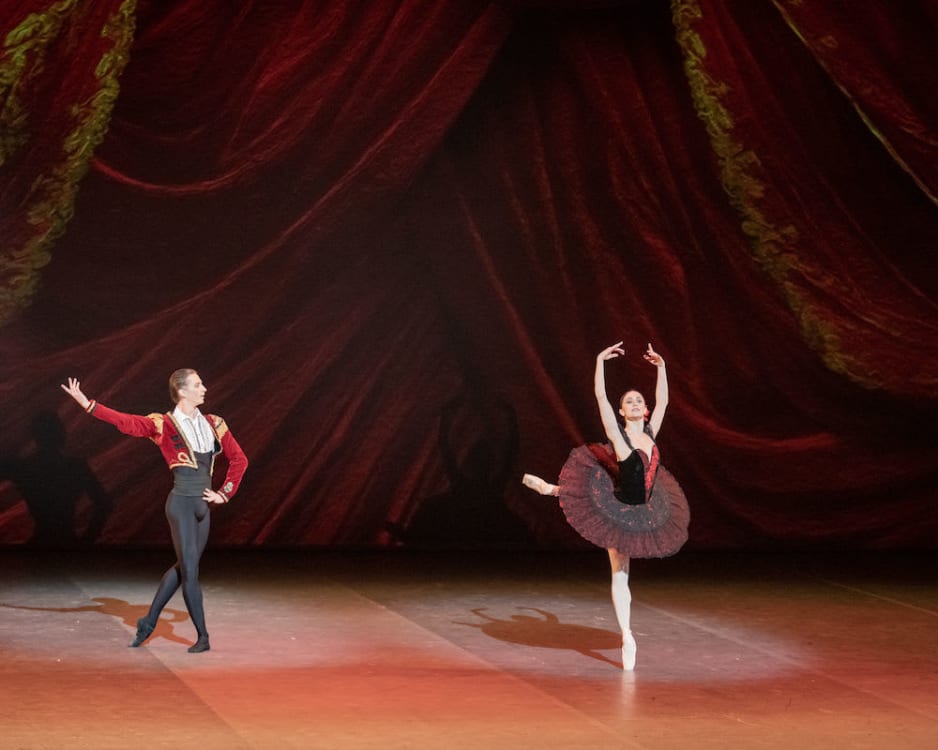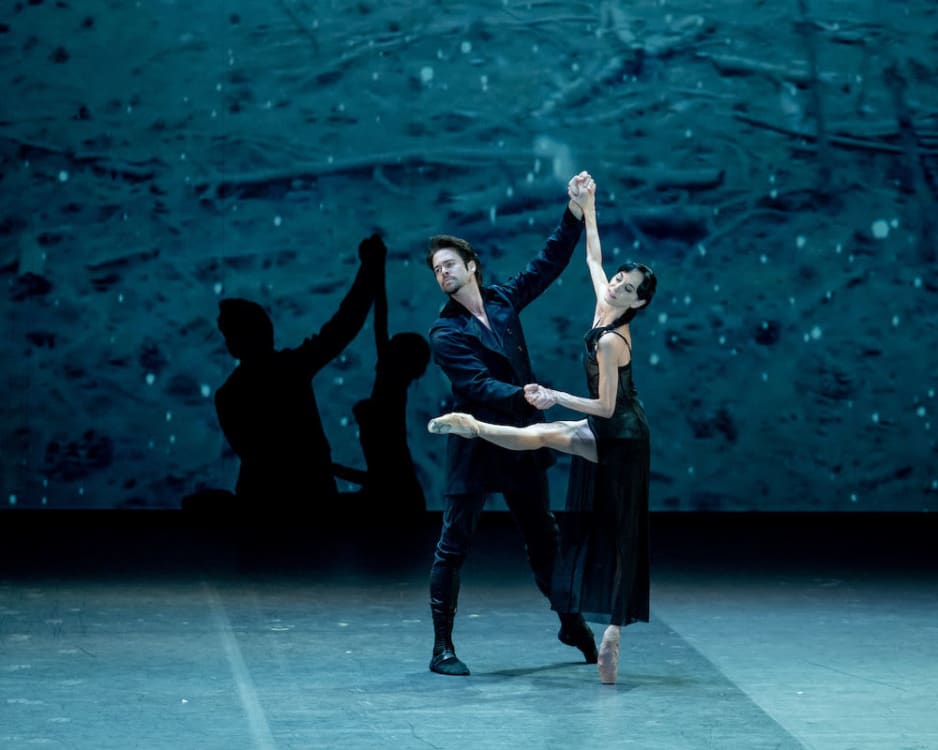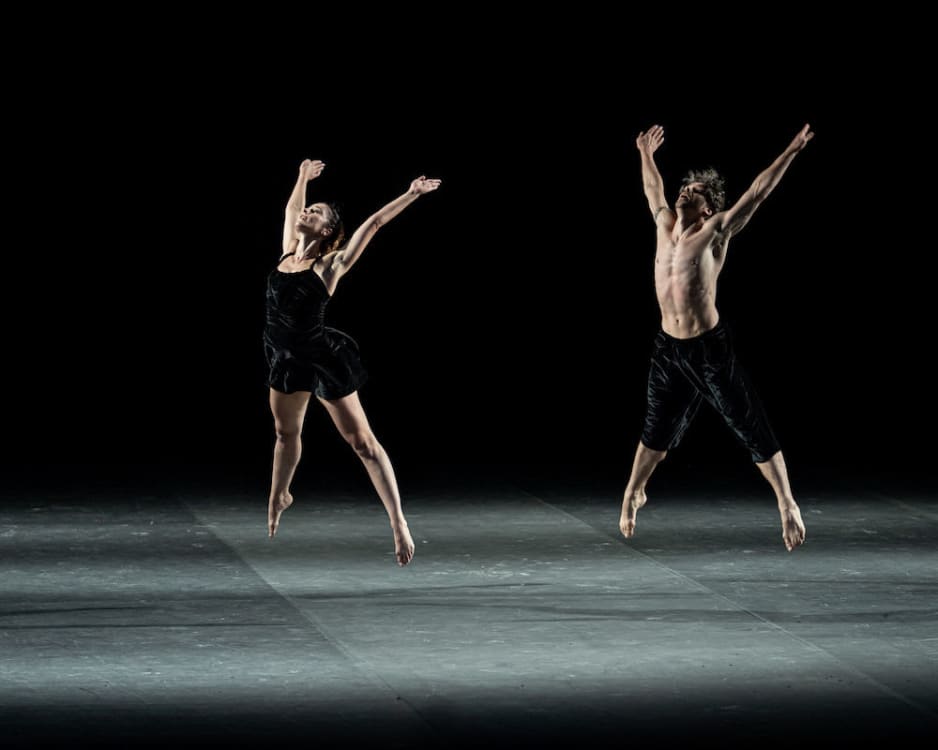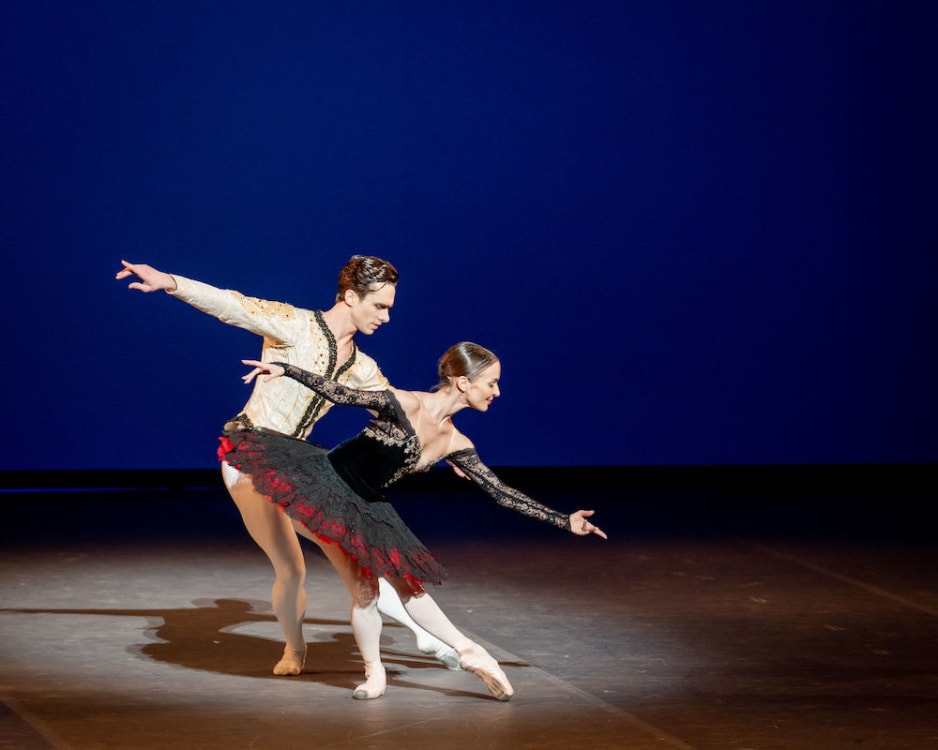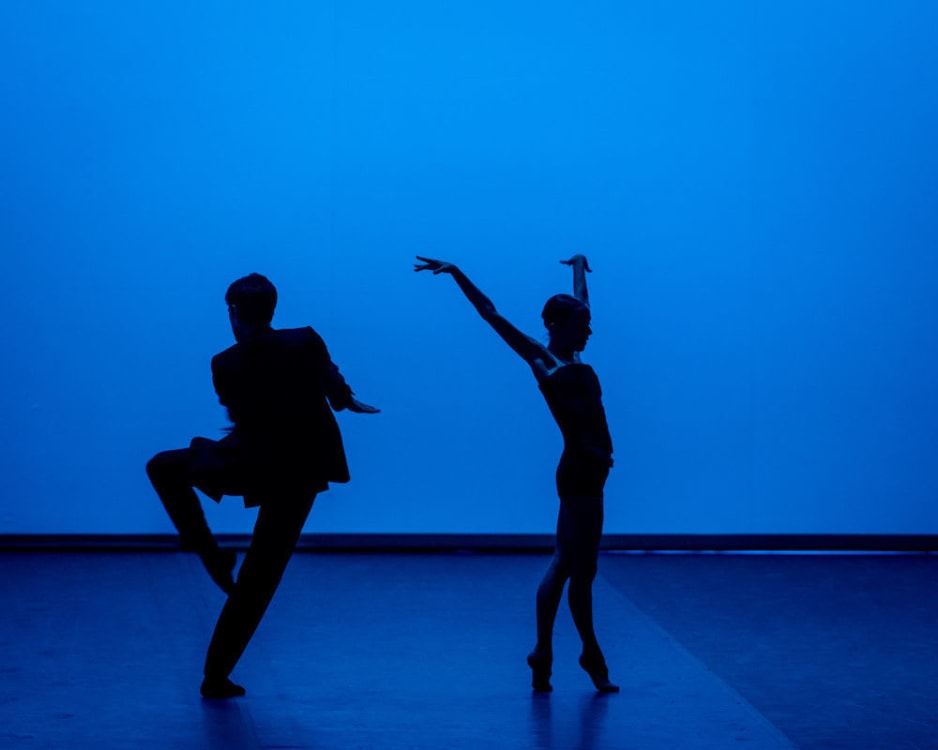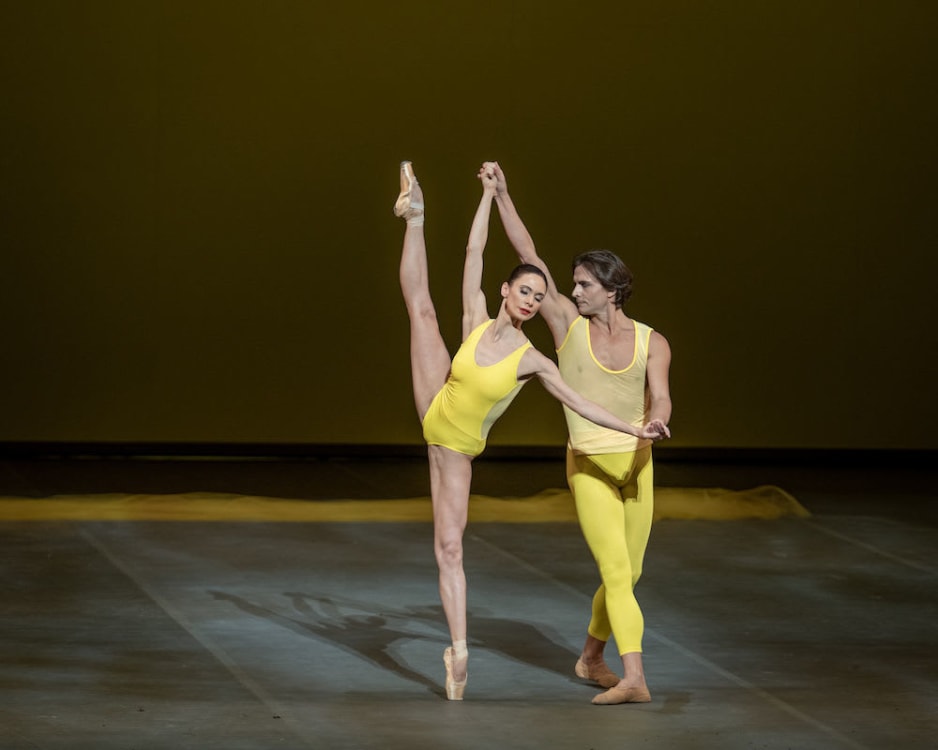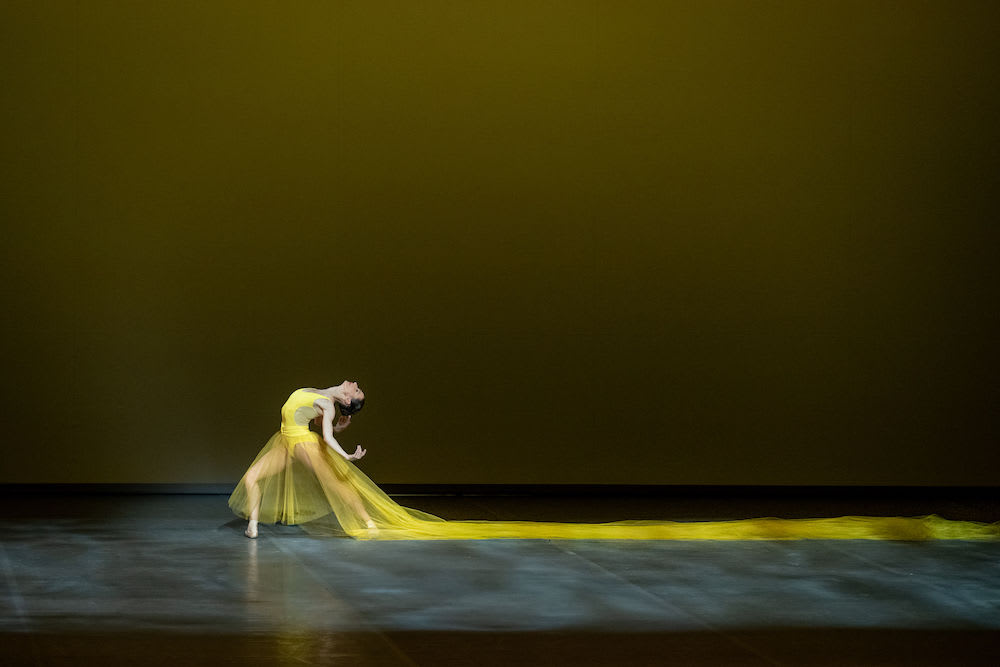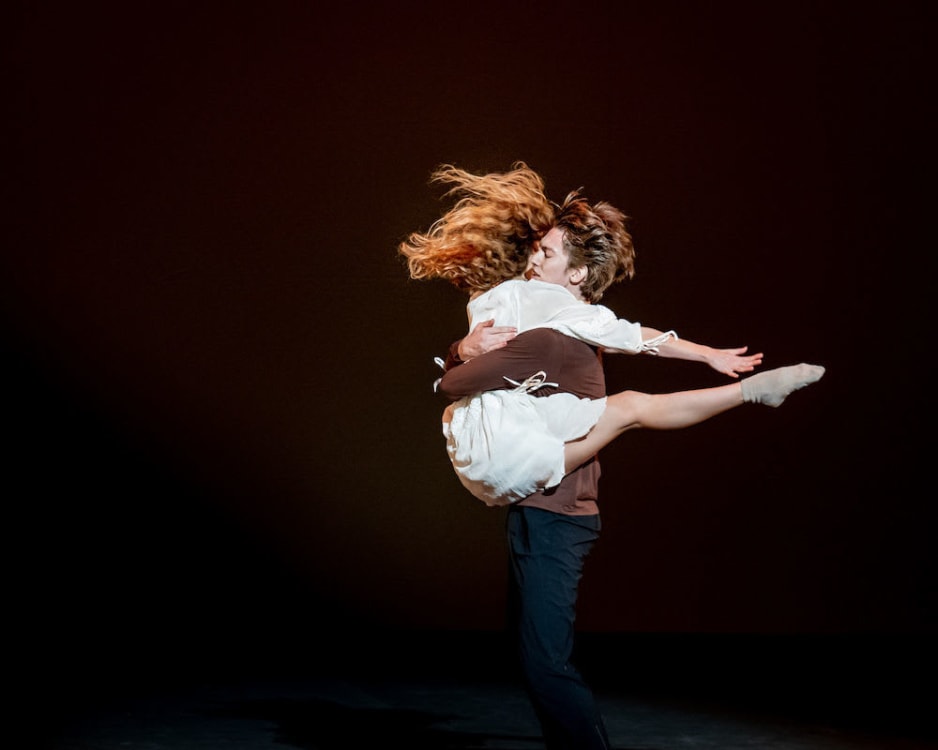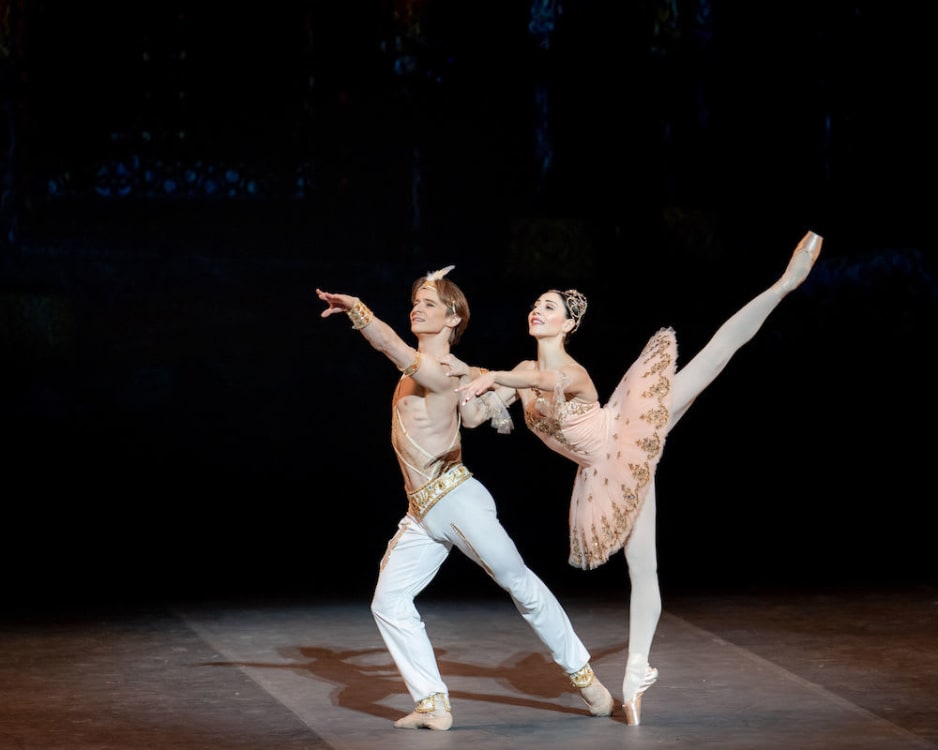 Usually in March, the annual ballet gala, organised by Ensemble Productions since 2006, is back, a little late having been interrupted by the pandemic. Again Olga Balakleets, CEO of Ensemble Productions, has pulled all the stops out to celebrate their return to the stage: it's a fabulous evening of thirteen duets and one solo (Sergio Bernal's self-choreographed sexy flamenco-inflected Overture). The stage is bare, no sets, just a single image back projection for each piece. It's a large stage, and large auditorium, in which to project one's magic.
Six pas de deux performed by international stars of the ballet world are, as expected, the usual gala fodder from the mostly Petipa nineteenth century classics with fouettés galore. In between are contemporary creations to cleanse the palate in this smorgasbord of a feast. It's worth paying attention to the clap-o-meter of audience appreciation, it's rarely wrong…
The Black Swan pas de deux opens the first half, danced tentatively by Nicoletta Manni (Teatro alla Scala) and Jakob Feyferlik (Dutch National Ballet). Next but one is Giselle Léonore Baulac (Paris Opera Ballet) and Julian MacKay (San Francisco Ballet), taken at measured pace.
But the one that ends the first half and blows it out of the water is the dynamic, confident, secure partnership of Marianela Núñez and Vadim Muntagirov (both The Royal Ballet) in the final grand pas de deux from Don Quixote. At the moment, they can do no wrong, perfection in motion. Both have a supreme command of the stage. Their variations are masterclasses in technique and gala pyrotechnics. Her long balances are steady, her smile broad, musicality playful. His leaps are out of this world, landings neat, and he has a new slicked-back hairstyle. What a pair!
I'd say king and queen of the night, though they get a run for their money from a few others. Yasmine Naghdi and Marcelino Sambé (both The Royal Ballet) are outstanding in Wayne McGregor's Chroma from 2006. Jaw-dropping, hyper-articulated, high-speed moves are given short shrift. It's even better than when I last saw it. Thin vests and skimpy pants, in pink for her, brown for him, reveal honed bodies in tune and in competition with each other, timing is all. Sexy equals, their astonishing lifts are precision timed. Kinetic mobiles. Just wow.
The other duet that moves me deeply in the first half is by Yuri Possokhov, Snow Storm (sublime romantic music by Georgy Sviridov redolent of traditional Russian Orthodox chorale or chant), danced by Lucía Lacarra (formerly of the Bavarian State Ballet) and Matthew Golding (formerly of the Royal Ballet). They appear in a black and white film amongst silver birch trees, and then they are here on the stage, he in black looking like Onegin, she as slender as the slenderest birch in gossamer black. She is particularly amazing, ethereal; he a worthy partner—there's one lift which combines a throw of her in the air and a secure catch when time stands still and hearts break.
They could have stepped out of any nineteenth century Russian novel or short story, Pushkin, Chekhov, Turgenev, Tolstoy... According to the programme notes, it's based on a Pushkin short story. Snow falls; they dance their hearts and souls out, and leave separately, just as the forest turns green.
Passo Continuo, quite a long barefoot contemporary piece by Mauro Bigonzetti danced by Filipa de Castro and Carlos Pinillos (both National Ballet of Portugal), takes a while to register with me, but then wins me over. Two creatures of the forest I'm guessing, playful, animated, throwing themselves at each other, nuzzling, climbing over and under each other. A partnership of equals, the contact work is superb. It's witty and good fun and a bit Pina Bausch—he drags her by the leg like a log.
That first half is hard to follow but follow it they do, English National Ballet dominating in three numbers: Paquita, The Sleeping Beauty and Radio and Juliet. Paquita danced by Katja Khaniukova and Francesco Gabriele Frola is not involving, though Frola has come on by leaps and bounds (literally) and Khaniukova is lovely but still a little self-conscious. She shouldn't be.
Maria Kochetkova and Jeffrey Cirio perform the Sleeping Beauty wedding pas de deux with stately grace. Katja Khaniukova, partnered this time by Aitor Arrieta, takes on Edward Clug's Radio and Juliet (music Radiohead) in modern dress and soft shoes. Silhouetted against the lit backcloth, their moves a touch MacGregor inspired, it's a short, succinct piece but rather lovely.
Former ENB dancer, now with Berlin State Ballet, Ksenia Ovsyanick and Denis Vieira of The Bavarian State Ballet in George Williamson's abstract Mesh pas de deux are earnest, but it is rather soporific. As is Guiseppe Picone's (of Teatro di San Carlo) Vivaldi Summer pas de deux, danced by himself and Liudmila Konovalova (Vienna State Ballet), which follows. The baroque music is divine, there's much arm wafting, but it's uninvolving. Preceding it is Kirill Radev's short Lorca-esque sad love story At Sunset, danced by Giselle's Léonore Baulac and Julian MacKay.
And to the end… what else but Le Corsaire, which has the audience cheering and clapping in time to her fouettés... Maia Makhateli (Dutch National Ballet) and Daniil Simkin (Berlin State Ballet / ABT) do the business as Medora and Ali, both outstanding, she elegant and self-assured, he, looking from a distance like a young Baryshnikov, almost emulates him in his bravura twisting leaps, but for my money I'd have had them end the first half and Núñez and Muntagirov close the show.
A terrific evening on Black Friday with traffic at a standstill and the tube barely functioning: what an escape for a few hours. Ensemble Productions promise another feast next March all being well. Natalia Osipova was to have danced a solo, Ashes, by Jason Kittelberger tonight, but injury stopped play. Maybe next year…
And we mustn't forget the English National Ballet Philharmonic under Jonathan Lo's capable baton, though many of the contemporary pieces, of necessity, use recorded music.
Reviewer: Vera Liber