ENB Emerging Dancer 2019

English National Ballet
Sadler's Wells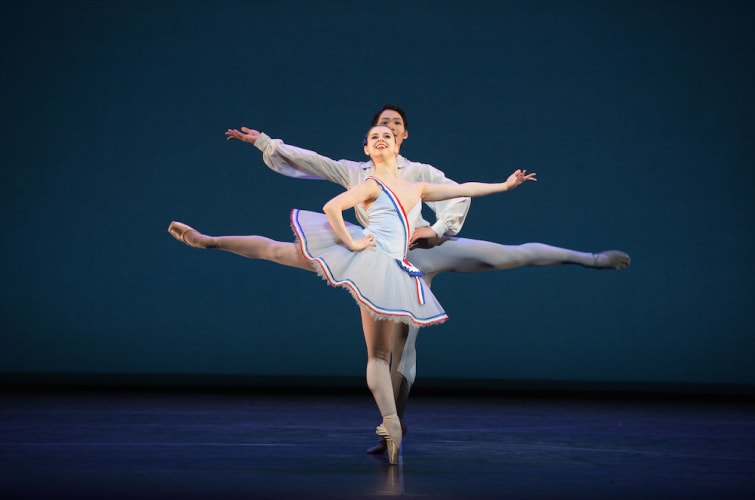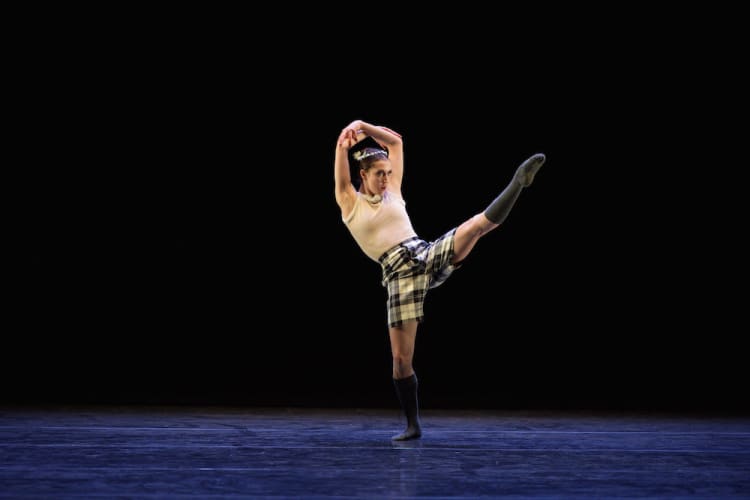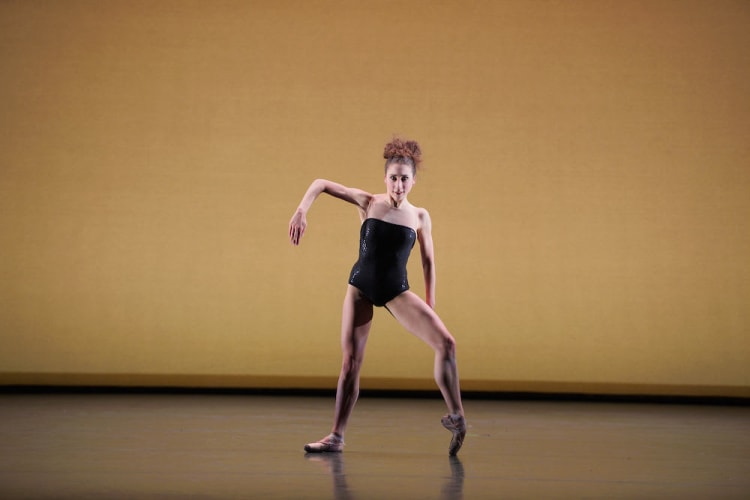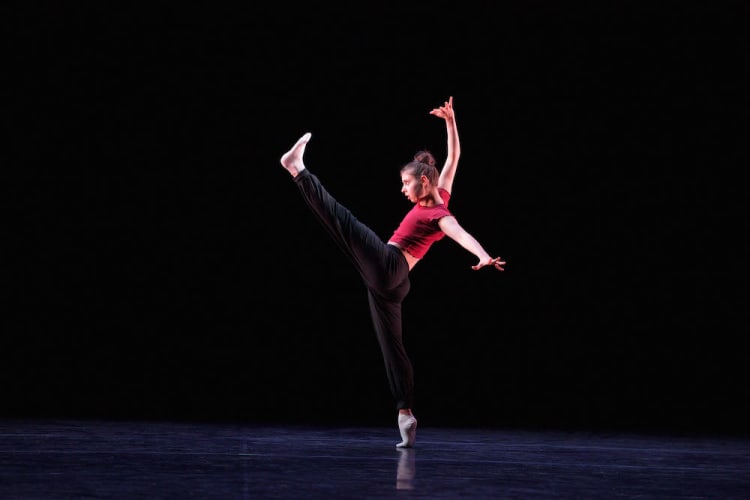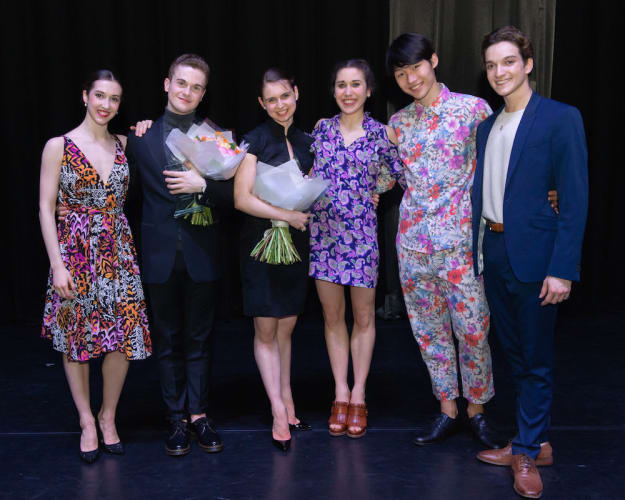 Nominated by their fellow dancers, six young artists take to the Sadler's Wells stage—smaller than the Coliseum's where last year's event was held—to compete for the title of Emerging Dancer 2019. And without much ado, I can report that the rightful winner is Julia Conway. I must say I spotted her some time ago and labelled her the one with the expressive face.
All the dancers are excellent and there is little between them technically, but it's that little extra, the personality that crosses the footlights to the audience, and Julia has it, making eyes at and eye contact with the audience.
In the Flames of Paris pas de deux (interestingly I've seen this pas de deux twice recently in two different galas, danced by ENB soloist Katja Khaniukova) with fellow competitor Rentaro Nakaaki who brings fire to his moves, she performs with supreme confidence and speed.
Her contemporary solo, Untitled Code, choreographed by Rambert dancer Miguel Altunaga, has to compete with Rhys Antonio Yeomans's dazzling delivery of William Forsythe's In The Middle, Somewhat Elevated. And without doubt his is the knockout solo of the evening—Forsythe is hard to beat in the choreography stakes. But, again, her confidence and complete immersion shines through in hers.
Standing in a spotlight, no sound, her body shifts, now shoulder, now hip, a leg raised, a foot flexed, look, these are my tools. Then Kid Cudi's The Resurrection of Scott Mescudi electro-acoustic music kicks in and takes us by surprise. Ballet crossed with b-boying, or should I say b-girling? Bring it on. She's a cool dude in cropped top and black tracksuit trousers.
The evening's MC is Adam Cooper, former Royal Ballet Principal and Matthew Bourne's first Swan. His wife, former Royal Ballet Principal Sarah Wildor, is on the judging panel along with Tamara Rojo CBE, Artistic Director of English National Ballet; Guest Character Artist at English National Ballet and former Principal of The Royal Ballet Michael Coleman; dance writer Gerald Dowler; performer, choreographer and director Carrie-Anne Ingrouille; founder of mavinkhooDance and rehearsal director to Akram Khan Company Mavin Khoo.
Videos allow the dancers to present themselves, but it's the performances that matter. Each finalist performs a classical pas de deux, followed by a contemporary solo. Shale Wagman and Alice Bellini perform the Grand Pas Classique; Rhys Antoni Yeomans and Emilia Cadorin dance a pas de deux from Coppélia; and Rentaro Nakaaki and Julia Conway the aforementioned Flames of Paris. All tackle the showcasing variations with daring and poise, though nerves do occasionally peek through when smiles give way to concentration.
Wagman is a perfect danseur noble partner to a stately and elegant Bellini. Yeomans and Cadorin have lovely rapport in Coppélia—well chosen to show off their talents—his musicality to the fore, as it was in the Forsythe solo.
Rentaro Nakaaki is a firecracker in Flames of Paris—great elevation and speed—he positively tears through his manège. But his solo, Own, choreographed by Nuno Campos, to UVB's electronic A Model of Order, proves that one is only as good as the choreography. He poses in martial arts style trousers, bare torso, his body ripples in a square spot of light, but there's an emptiness at its heart.
Wagman's solo is a quirky number, Peculiar mind, choreography Sofie Vervaecke, to Dvořák's Silent Woods, a piece on gender fluidity. He crosses the stage in stiletto heels, half male, half female, then throws them away. There's an exquisite lyricism in his supple body.
CLAN B by Sebastian Kloborg (music Herman Løvenskiold) for Alice Bellini is another quirky, zany, gender-fluid piece. La sylphide has her ballet skirt whisked off to reveal her in long check shorts and vest. Full of vigour and fighting fit, she seems to have taken over James's human body.
BAM! for Emilia Cadorin has choreography and music by ENB first soloist Fabian Reimair. In silhouette, her body is a hieroglyph against the backcloth; lights up she is human—or is she? Is she an AI? Is this a comment on dancers' bodies as tools of the creators?
There are more winners to be announced before we get a final treat, last year's winner Daniel McCormick with Francesca Velicu in Don Quixote act III pas de deux. I've wondered before whether Velicu reminds me of Alina Cojocaru, but tonight she shows some of the determination of Tamara Rojo in her 32 fouettées. Their personalities shine through, his one hand lift and partnering impeccable, his variations precision perfect, her hauteur and poise after an initial moment of insecurity also birdlike swift and precise.
ENB's Emerging Dancer competition has been running for ten years now, but the Corps de Ballet award only three and it goes to a surprised and speechless Eireen Evrard, whilst People's Choice goes to Rhys Antoni Yeomans, a former Billy Elliot at the age of twelve.
All meet vocal approval. Awards to encourage and nurture, as Rojo puts it, the dancers of the future, and they are encouraged greatly by their mates in the audience. All go away happy, I hope. Well done!
Reviewer: Vera Liber