Romeo and Juliet
Choreographer Kenneth MacMillan, music Sergei Prokofiev
Birmingham Royal Ballet
Sadler's Wells
–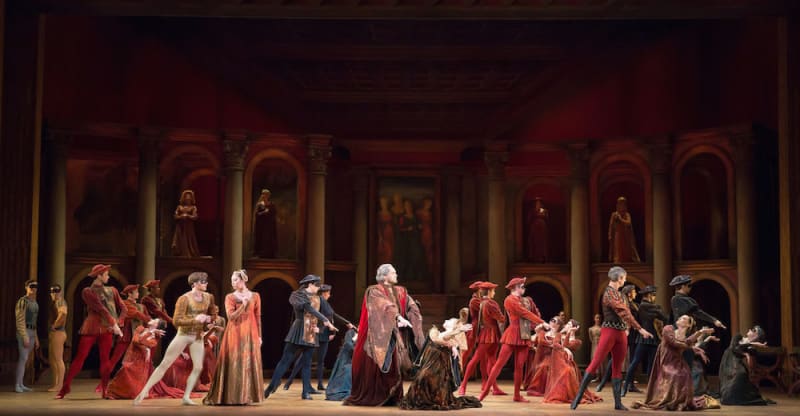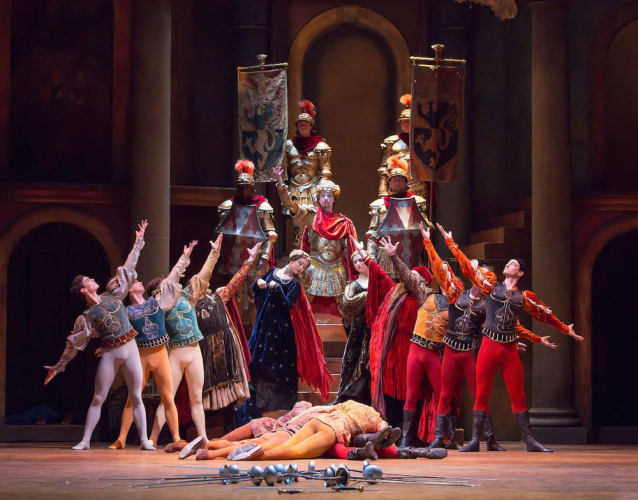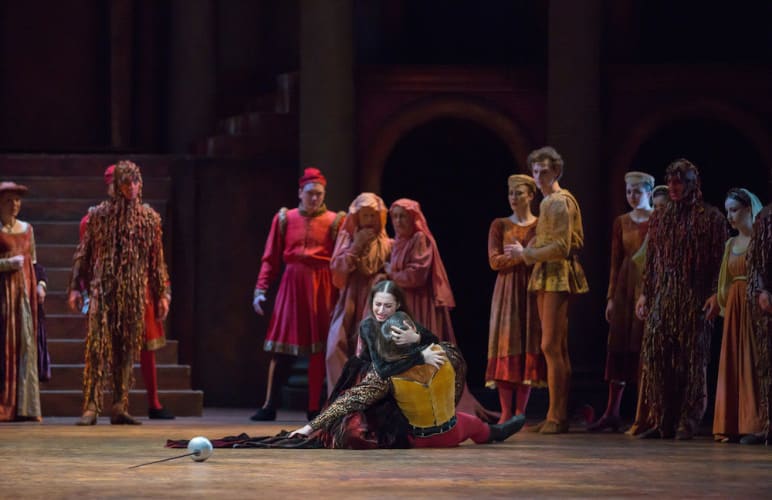 This is not Kenneth MacMillan's famous Romeo and Juliet of 1965 made for the Royal Ballet on Lynn Seymour and Christopher Gable, who frustratingly ended up being cast second after Margot Fonteyn and Rudolf Nureyev for obvious crowd-pulling star power, but a reworked version commissioned by Sir Peter Wright for Birmingham Royal Ballet.
MacMillan's first three-act ballet—influenced to some extent by the Bolshoi's Leonid Lavrovsky's 1940 original, by John Cranko's 1962 Stuttgart Ballet version, and by Franco Zeffirelli's 1960 Old Vic production—was designed by Nicholas Georgiadis in opulent style for the Covent Garden stage, too grand for BRB.
For his revised smaller-scale 1992 version, MacMillan chose a young 22-year-old designer fresh out of art school, Paul Andrews, who did him proud. And one mustn't forget that the set has to be transportable for a touring company. Not a big ask, then…
Andrews surpassed his brief: the quattrocento set and costume designs are fresh, lush, colourful, seemingly straight off the medieval canvasses, their perspective replicated with an eagle eye. Sadly Andrews died of an asthma attack seven years later, nevertheless managing to create some two-dozen designs for the theatre in a career cut so tragically short.
The only jarring note for me is his curious Mandolin Dancers ribbon costumes, which have something of David Mach's wire coat-hanger sculpture to them crossed with Morris Dance mummers. But the Verona piazza, and palazzo filled with city-states standards and clan pennants, and the storybook front cloth do much of the feudal tale's heavy lifting.
I digress, maybe because sitting so close my eye is easily distracted by the visual splendour of the ballet's setting. Within that setting, it is Jenna Robert's Juliet who is its precious jewel. It is her ballet, but then MacMillan always intended it to be Juliet's.
She is the emotional driving force in the ballet and in her relationship with Romeo. He may be thunderstruck—even as he is pursuing Rosaline (a deliciously haughty, finger-clicking Delia Matthews)—but it is she who resists Paris (Feargus Campbell makes it very clear that it is a spoilt boy / rich man's world), she who goes to Friar Lawrence (Michael O'Hare) for the sleeping potion, it is she who makes the decision to flout her parents. Her fleet bourrées en couru speak impetuosity and defiance.
Roberts commits totally to the role. Her acting is excellent, her dancing too, an ideal role for her slender girlish frame, transitioning from an on the cusp of puberty doll-playing child—a daughter for sale to the highest bidder—to a teenager awakening to strong emotions.
A pity that the Sadler's Wells stage is a bit cramped for such a lavish production: one feels the male leads are, maybe, having to rein it in a little. Though the acting is good all round. Think melodramatic silent screen emoting, not balletic mime, but natural gestures if somewhat amplified.
Laura Purkiss, face like the Virgin Mary, is a dainty, pretty Nurse, Jonathan Payn's Lord Capulet a harsh heavy-handed father and Samara Downs as Lady Capulet, the status-conscious mother from hell, breaks down spectacularly over her nephew Tybalt's (Rory Mackay) death.
Silver fox Mackay wants to rule the roost and sort out rude boys Romeo, Mercutio and Benvolio (Tyrone Singleton, Max Maslen, Brandon Lawrence), but it's not as easy as he thinks. The sword fights are great, metal ringing on metal in time to Prokofiev's dynamic score (played live by The Royal Ballet Sinfonia, conductor Paul Murphy).
But the most heartfelt acting is in the last act. Cruel fate, cruel parents, cruel timing: banished Romeo does not know of the death-and-arranged-marriage-defying sleeping potion. His pas de deux with Juliet's limp body is devastating. As is her waking to find him dead. She's gone to all this trouble and for what… first love, and its tragic consequences...
Her inching towards his body mirrors her bedroom scene when she crawls into bed to play dead after taking the fast-working drug, only this time her bed is a catafalque in a ghoulish underground burial crypt.
It is Roberts's performance and the eyeball sizzling designs that do it for me on the last night of only three BRB Romeo and Juliet performances at Sadler's Wells. Roberts is retiring at the end of the month. As is soloist Feargus Campbell (Paris), who leaves Birmingham Royal Ballet after 13 years.
Roberts joined Birmingham Royal Ballet in 2003, became a Principal in 2012, has danced leading roles in Swan Lake, The Nutcracker, The Sleeping Beauty, Coppélia, Daphnis and Chloë, Cinderella, and Juliet, of course. She created roles in Jessica Lang's Lyric Pieces, Michael Corder's Le Baiser de la fée, David Bintley's The Tempest, and Alexander Whitley's Kin. Kin. (sic) can be seen in the Polarity and Proximity Triple Bill opening at Sadler's Wells Friday 15 June.
Reviewer: Vera Liber