The Cunning Little Vixen / The Two Pigeons
Choreography Liam Scarlett and Frederick Ashton, music Leoš Janáček and André Messager
The Royal Ballet School and The Royal Ballet
Royal Opera House
–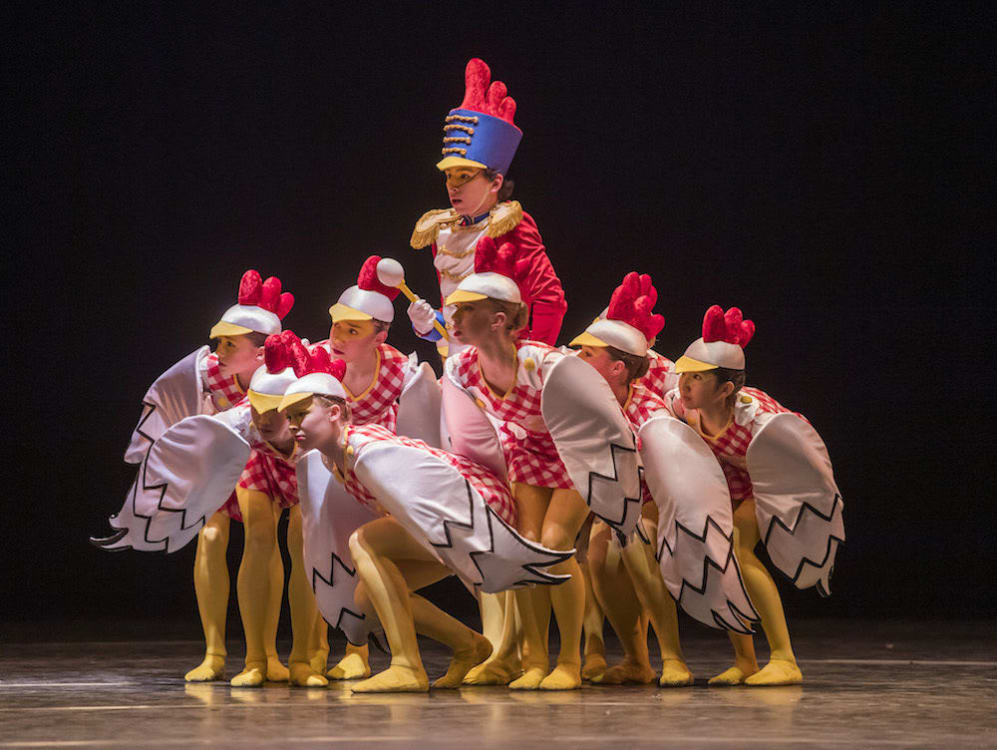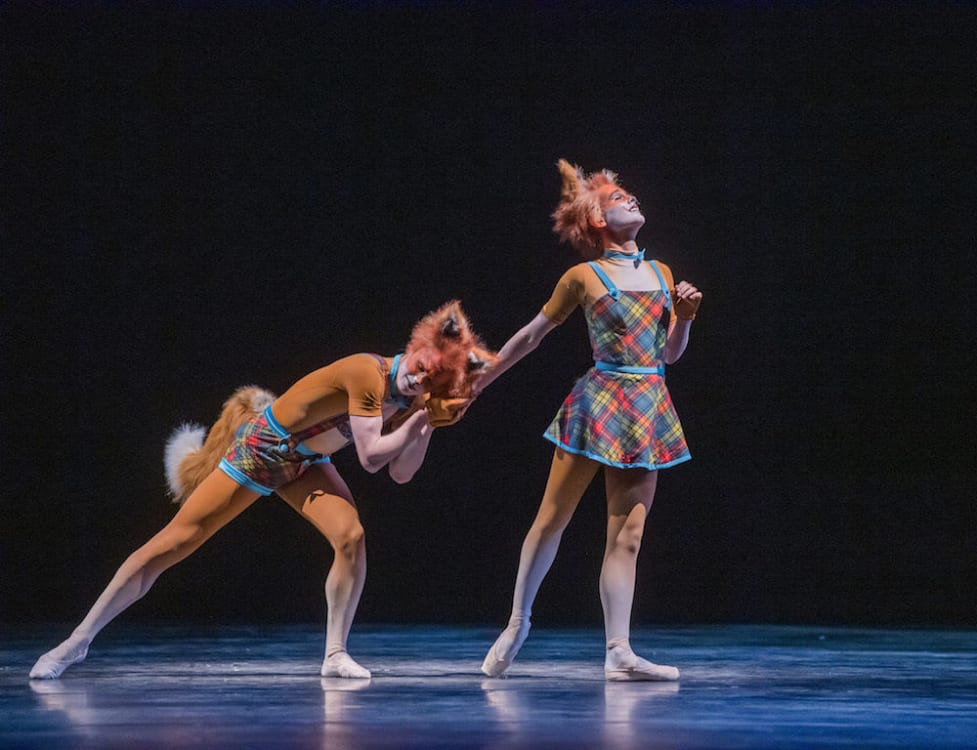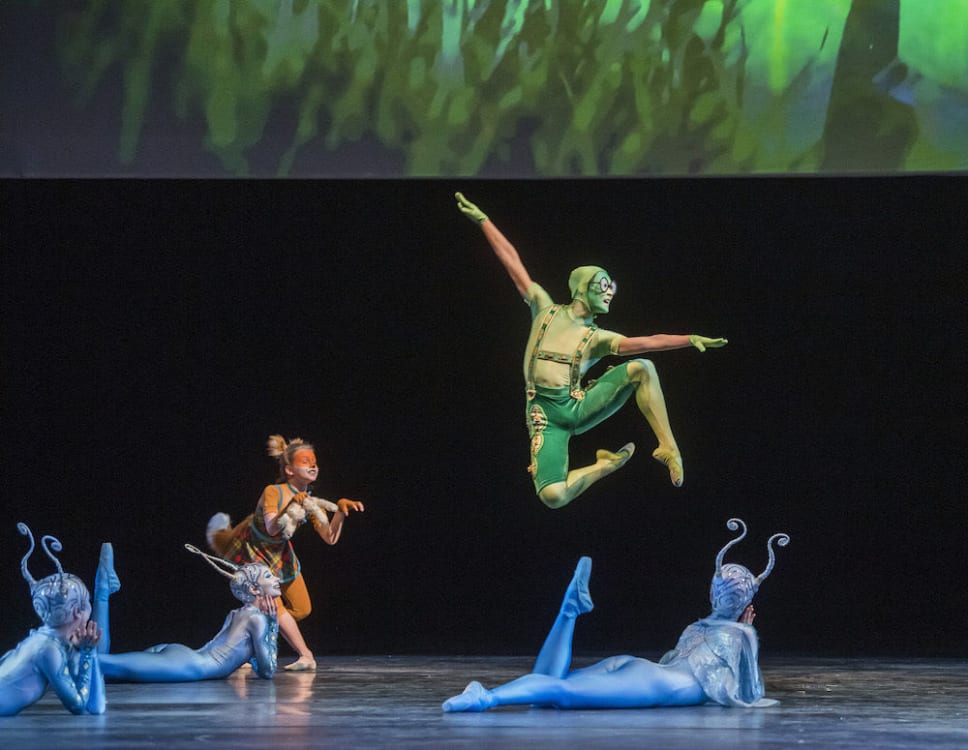 What a marvellous idea to have prolific artist-in-residence (and Royal Ballet School alumnus) Liam Scarlett create a forty-minute ballet for The Royal Ballet School and couple it with Frederick Ashton's The Two Pigeons, whose legacy is evident in its style and content.
And to pick Leoš Janáček's 1923 The Cunning Little Vixen (Příhody lišky Bystroušky) score (arranged by Peter Breiner) whilst Kát'a Kabanová is still in rep in the house. Scarlett has a wonderful feel for music: just watch him let it breathe in the dance… Pure joy.
Ashton's Tales of Beatrix Potter and Will Tuckett's The Wind in the Willows are two ballets that spring readily to mind, prompted by Daichi Ikarashi's Jeremy Fisher-ish Frog and Archie Sherman's Badger. But what multi-talented Scarlett has done, whose concept and design this is, too, is to use video projection (designers Finn Ross and Ash J Woodward), a cartoon children's film that is so delightful it almost draws one's eye away from the dancers below.
The dancers' challenge is to keep our eyes on them, and remarkably they do with youthful joie de vivre, and clever lighting from Les Bone. Feathers fly on screen and dancers fly on stage, their adrenaline high must be amazing. Twenty-plus student dancers drawn from the Upper School and White Lodge, some on pointe, some still in soft shoe, dressed in Scarlett's superlative costume designs (the detail remarkable, the hens' wings, for instance, looking like embroidered folk costume sleeves), create their own moving picture show underneath the one above, in perfect fusion.
As well as Foxes, Frog and Dog, a Woodpecker vicar, a drum major Cockerel hiding behind his ten hens—I'm tempted to call them his chicks—there are Ladybirds, Bumblebees, Rabbits, pretty Dragonflies that remind me of The Concert, Mosquitoes and more. A colourful stage picture, vivid, vibrant, funny, with a happy children's storybook ending: the shot Vixen (Madison Bailey) is revived by Frog, and she and her eight-strong brood live happily ever after to hunt in the dark, dark forest at night, but they must remember to avoid the man with the big gun.
Janáček's so-called comic opera, itself inspired by Rudolf Těsnohlídek's popular 'fairy tale' Liška Bystrouška, with drawings by Stanislav Lolek, serialised in the paper Lidové noviny in 1920 and apparently bought to his attention by his maid, has a sad ending, the vixen goes the way of all life. Whereas Scarlett in this children's ballet version has for once left his dark side (a paedophiliac Hansel and Gretel, a Jack the Ripper Sweet Violets, and Frankenstein) behind.
Scarlett, very much flavour of the month (his Asphodel Meadows just finishing its run in a double bill with The Two Pigeons), is again coupled with the main company fielding another cast in the latter. Alexander Campbell is not new to his role of frustrated Young Man, but Yasmine Naghdi is making her almost flawless debut as The Young Girl. Ballerina in white Naghdi and dark Gypsy Girl Fumi Kaneko do a girl fight dance off and the outcome is a draw I'd say.
The audience—many children tonight naturally and proud parents I expect—loves and cheers and applauds throughout. Technique is demanding for this frisky foot and petulant shoulder work, but for me much of its success depends on chemistry and personality, Having seen it less than two weeks ago, I concentrate on rapport and partnership, and for my money, the final pas de deux between the reconciled young lovers is worth sitting through the too-long flouncing at the gypsy camp scene.
There's wit and much borrowing from, or at least homage to, Ashton's own La Fille mal gardée, Saint-Léon's Coppélia in Naghdi's flexed feet and the artist's mannequin manipulation of her, Bizet's Carmen and Degas (both his ballet and Russian dancers). In their pastel skirts, the Young Girl's visiting Friends could have stepped out of a Degas and Elizabeth McGorian's Neighbour out of any Impressionist painting.
The restless (he needs to spread his wings not to have them clipped) Young Man is an artist in the proverbial garret after all. For some reason, I also imagine Leslie Caron and Gene Kelly in the lead roles. It must be that large penthouse Parisian studio and Jacques Dupont's colour scheme, or the romantic clichés.
"Stars of today and stars in the making perform works that represent the heritage of the Company as well as its vibrant future." I did say vibrant, didn't I? For three performances only, what a splendid way to make a transition between school and professional life... Or at least to get a taste of it.
Reviewer: Vera Liber