Manchester Theatre Awards ceremony
Published: 9 March 2014
Reporter: David Upton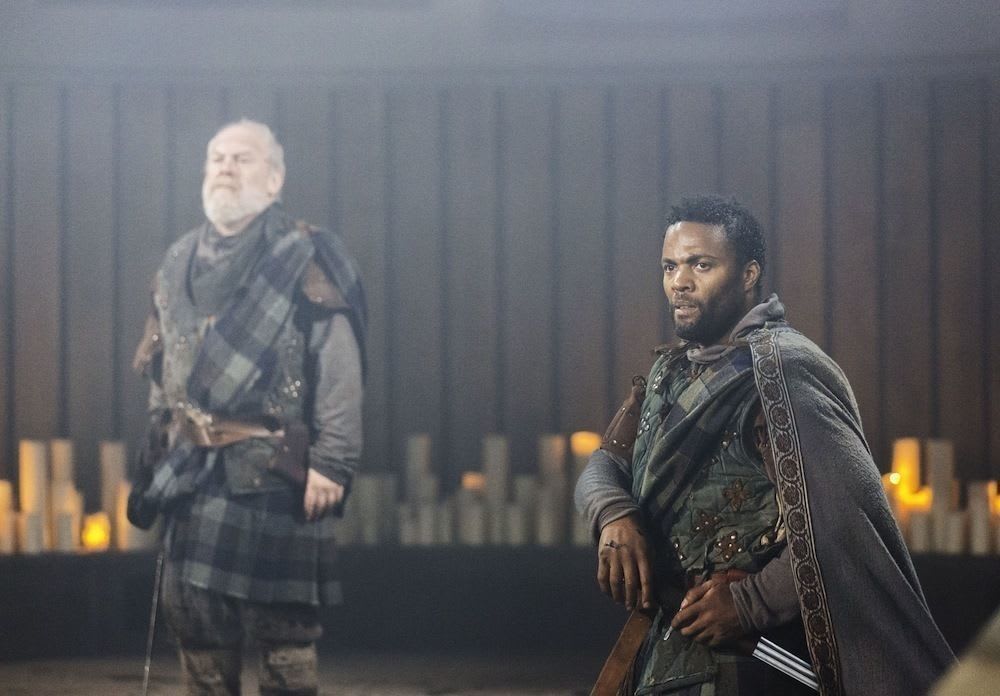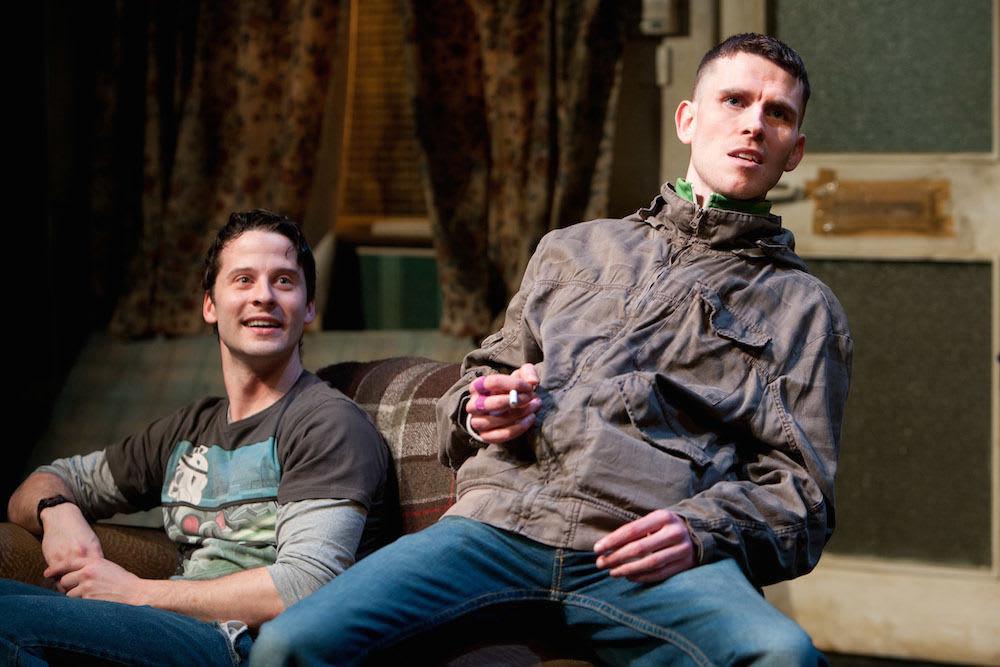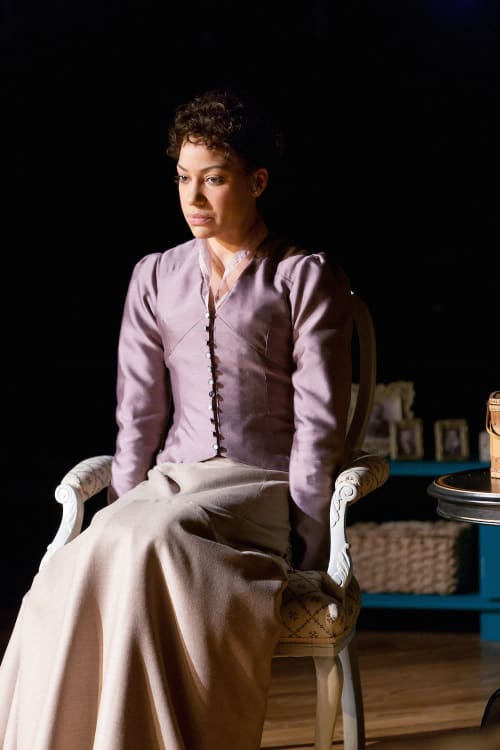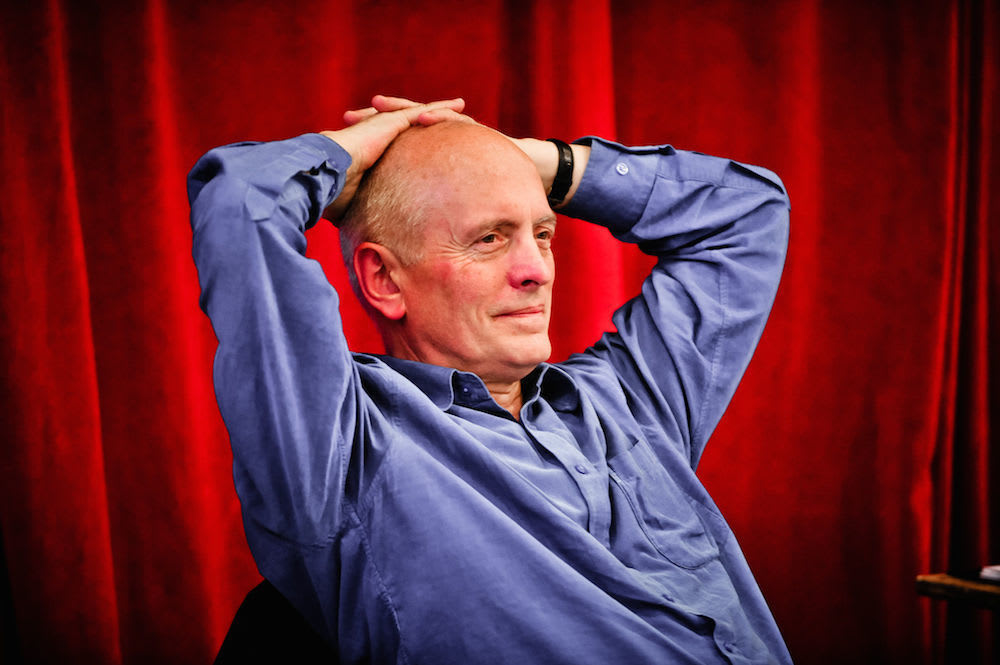 Manchester was in the seasonal showbiz awards spotlight at the city's Royal Exchange Theatre.
More than 20 Manchester Theatre Awards for 2013 were presented to the winners among 100 nominees, chosen by a panel of regional theatre critics, in an event that this year was also open to the public for the first time.
Among the winners was Sir Kenneth Branagh, for his acclaimed performance as Macbeth in last year's Manchester International Festival performance staged inside an old city church. Although unable to attend (he is currently directing a new film of Cinderella, starring Lily Cole) his sister, writer and director Joyce Branagh, attended the event to collect the award on her brother's behalf.
Macbeth also earned Ray Fearon his second trophy in two years, for his supporting role as Macduff.
Veteran stage, film and TV actor Julian Glover won the award for best actor in a visiting production, for his title role in Maurice's Jubilee at the city's Opera House. He attended the event with his actress wife Isla Blair, who also presented a best supporting actress trophy to Shirley Darroch, from Oldham Coliseum Theatre's production of Chicago. The same musical also scooped the whole cast an award for ensemble performance.
Best Actress award went to TV and stage star Cush Jumbo for her performance in the title role of Miss Julie at Manchester Royal Exchange. She was delighted to receive her trophy from close friend, and current big name at the venue, actress Suranne Jones. The venue's Studio performance of Brilliant Adventures also won two awards.
War Horse, the National Theatre's acclaimed adaptation of Michael Morpurgo's story, charged through a crowded field for Best Visiting Production to win the award on its first national tour to the Lowry in Salford. It returns there this summer.
The venue was also poignantly successful when the Robert Robson Award for Dance went to the Michael Clark Triple Bill. It was a production that had been programmed by the Lowry's artistic director Robert Robson—a leading advocate of dance theatre—who died suddenly in the summer, before its actual performance.
In his honour the judges decided this year to give his name to the trophy.
Several other awards are designed to encourage the region's small-scale fringe and studio performances and this year one of those, Away From Home, performed at the city's 24:7 Festival, also won the prestigious New Play trophy, for its writers Rob Ward and Martin Jameson.
The Special Achievement Award went to Manchester Library Theatre's artistic director Chris Honer who this year stands down from the role after more than 20 years.
A new award, presented by the Stage Door Foundation, also went to another long-standing Manchester institution: the comedy theatre duo of LipService, Maggie Fox and Sue Ryding.
The 2013 Manchester Theatre Awards:
Best Actor
Kenneth Branagh, Macbeth, Manchester International Festival, St Peter's Church
Best Actress
Cush Jumbo, A Doll's House, Royal Exchange
Best Actor in a Supporting Role
Ray Fearon, Macbeth, Manchester International Festival, St Peter's Church
Best Actress In A Supporting Role
Shirley Darroch, Chicago, Oldham Coliseum
Best Actor in a Visiting Production
Julian Glover, Maurice's Jubilee, Opera House
Best Actress in a Visiting Production
Catherine Kinsella, Rutherford and Son, The Lowry
Best Production
Macbeth, directed by Rob Ashford, Manchester International Festival, St Peter's Church
Best Visiting Production
War Horse, National Theatre, The Lowry
Best Musical
Singin' In The Rain, Opera House
Best Opera
Otello, Opera North, The Lowry
The Robert Robson Award for Dance
Michael Clark Triple Bill, The Lowry
Best Design
The Old Woman, designer/director Robert Wilson; sound Marco Oilvieri; light A J Weissbard, Manchester International Festival, Palace
Best Newcomer
Freya Sutton, Hairspray, The Lowry
Best New Play
Away From Home, by Rob Ward and Martin Jameson, 24:7 Festival
Best Studio Production
Brilliant Adventures, Royal Exchange Studio
Best Fringe Production
The Best, Lass O'Gowrie
Best Studio Performance
Robert Lonsdale, Brilliant Adventures, Royal Exchange Studio
Best Fringe Performance
Rob Ward, Away From Home, 24:7 Theatre Festival
Best Ensemble
Chicago, Oldham Coliseum
Best Special Entertainment
Dick Whittington, Opera House
Special Achievement Award
Chris Honer, Library Theatre, Manchester
The Stage Door Foundation Award for Excellence
Lip Service