Manchester Theatre Awards 2013 nominations
Published: 14 January 2014
Reporter: David Chadderton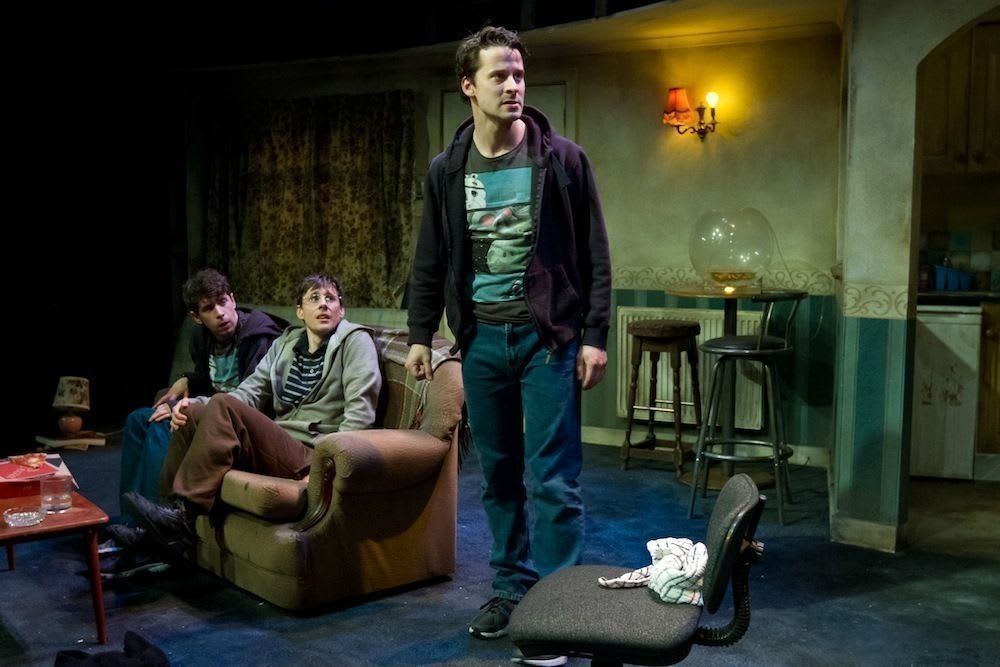 The nominations have now been announced for the Manchester Theatre Awards for 2013, and, in a year dominated by the Manchester International Festival which itself was dominated by one main production, the local theatres have certainly shown that they can compete with the big names and the big money in every category.
MIF has received 9 nominations, but 5 of them are from its headline production of Macbeth starring Kenneth Branagh and Alex Kingston. The Old Woman is next in line with 2, followed by The Machine and The Masque of Anarchy with 1 each.
MIF wasn't the only festival in town in 2013 to gain nominations as the tenth 24:7 Theatre Festival has 3, all for the same production: Away From Home. Buxton Festival, included for historic reasons even though it is based in Derbyshire, also gained 3 nominations.
As is usually the case, the Royal Exchange has the most nominations of any producing venue at 19, but if the 7 for productions in the Studio are subtracted from that total, their main house nominations have been equalled by Oldham Coliseum's 12. The Coliseum has had a remarkable year, leapfrogging Bolton Octagon with its 7 nominations to take second place. Library Theatre Company has just 2 nominations, but it is still on a reduced programme until it moves into its new Home in 2015.
The production from the local theatres with the most nominations is shared by Oldham Coliseum's Chicago and Bruntwood Prize runner-up Brilliant Adventures at the Royal Exchange Studio, both with 4. On 3, there is a tie between the Coliseum's David Copperfield, the Octagon's The Glass Menagerie and two productions at the Royal Exchange, The Accrington Pals and To Kill A Mockingbird.
Of the receiving houses, The Lowry has the most nominations with 24 (2 for studio productions) not including the Library Theatre productions, whereas the Palace and Opera House, sister theatres owned by ATG, have 7 between them, not including MIF. Top of these is Fiddler on the Roof at The Lowry with 3 nominations; West Side Story at the Palace and Hairspray at The Lowry were not eligble as productions as they have both visited the region before, but both gained 2 nominations for individual performances.
On the fringe, the venue with the most nominations at 4 is the Lass O'Gowrie, which has just closed after a long-running, acrimonious dispute between the tenant landlord and the brewery. The Kings Arms, currently in transition from its old Studio Salford name with a new artistic director, has 2.
The winners will be announced during a ceremony at the Royal Exchange Theatre on Friday 7 March. Limited numbers of tickets are expected to be available for members of the public to purchase.
Best Actor
David Birrell, Sweeney Todd, Royal Exchange
Kenneth Branagh, Macbeth, Manchester International Festival, St Peter's Church
Nigel Cooke, To Kill A Mockingbird, Royal Exchange
Paul Webster, Sugar Daddies, Oldham Coliseum
Jack Wilkinson, David Copperfield, Oldham Coliseum
Best Actress
Marianne Benedict, Chicago, Oldham Coliseum
Cush Jumbo, A Doll's House, Royal Exchange
Gillian Kearney, Educating Rita, Library Theatre at The Lowry
Alex Kingston, Macbeth, Manchester International Festival, St Peter's Church
Maxine Peake, Masque Of Anarchy, Manchester International Festival, Albert Hall
Shannon Tarbet, To Kill A Mockingbird, Royal Exchange
Best Actor in a Supporting Role
Ray Fearon, Macbeth, Manchester International Festival, St Peter's Church
Kieran Hill, The Glass Menagerie, Octagon Theatre Bolton
Robin Simpson, David Copperfield, Oldham Coliseum
Best Actress in a Supporting Role
Sally Bankes, That Day We Sang, Royal Exchange
Shirley Darroch, Chicago, Oldham Coliseum
Heather Phoenix, Sugar Daddies, Oldham Coliseum
Kelly Price, That Day We Sang, Royal Exchange
Best Actor in a Visiting Production
Paul Michael Glaser, Fiddler On The Roof, The Lowry
Julian Glover, Maurice's Jubilee, Opera House
Louis Maskell, West Side Story, Palace
Barrie Rutter, Rutherford and Son, The Lowry
Tim Treloar, Birdsong, Oldham Coliseum
Best Actress in a Visiting Production
Michele Dotrice, The Ladykillers, The Lowry
Katie Hall, West Side Story, Palace
Catherine Kinsella, Rutherford and Son, The Lowry
Karen Mann, Fiddler On The Roof, The Lowry
Sian Phillips, People, The Lowry
Best Production
Of Mice and Men, directed by David Thacker, Octagon Theatre Bolton
Macbeth, directed by Rob Ashford, Manchester International Festival, St Peter's Church
The Accrington Pals, directed by James Dacre, Royal Exchange
The Glass Menagerie, directed by David Thacker, Octagon Theatre Bolton
The Old Woman, directed by Robert Wilson, Manchester International Festival, Palace
To Kill A Mockingbird, directed by Max Webster, Royal Exchange
Best Visiting Production
Birdsong, The Original Theatre Company and Birdsong Productions Ltd, Oldham Coliseum
The Full Monty, Sheffield Theatres, The Lowry
The Ladykillers, Liverpool Everyman and Playhouse / Fiery Angel, The Lowry
The Pirates Of Penzance, Scottish Opera and D'Oyly Carte, Opera House
Twelfth Night, Propeller, The Lowry
War Horse, National Theatre, The Lowry
Best Musical
Chicago, Oldham Coliseum
Fiddler On The Roof, The Lowry
Paradise Moscow, Royal Northern College Of Music
Singin' In The Rain, Opera House
Sweeney Todd, Royal Exchange
Wicked, Palace
Opera
Festival of Britten (Peter Grimes / A Midsummer Night's Dream / Death In Venice), Opera North, The Lowry
La Finta Giardiniera, Buxton Festival
L'Elisir d'Amore, Royal Northern College Of Music
La Voix Humaine, Buxton Festival
Otello, Opera North, The Lowry
Dance
Aladdin, Birmingham Royal Ballet, The Lowry
Michael Clark Triple Bill, The Lowry
Rambert, The Lowry
Richard Alston Dance Company, The Lowry
The Chelsea Hotel, Earthfall, The Lowry
Design
La Colombe/La Princesse Jaune, design Lez Brotherston; light John Bishop, Buxton Festival
Macbeth, design Christopher Oram; light Neil Austin; sound Christopher Shutt, Manchester International Festival, St Peter's Church
Of Mice and Men, design and light Ciaran Bagnall; sound Andy Smith, Octagon Theatre Bolton
The Accrington Pals, design Jonathan Fensom; light Charles Balfour; sound Emma Laxton, Royal Exchange
The Old Woman, designer/director Robert Wilson; sound Marco Oilvieri; light A J Weissbard, Manchester International Festival, Palace
The Machine, design Lucy Osborne; light Mark Henderson; sound Ian Dickinson / Autograph; video Andrzej Goulding, Manchester International Festival, Upper Campfield Market
Best Newcomer
Marcus Collins, Hairspray, The Lowry
Laura Elsworthy, The Accrington Pals, Royal Exchange
Nathan Ives-Moiba, Tull, Octagon Theatre Bolton
Freya Sutton, Hairspray, The Lowry
Nathan Wiley, The Glass Menagerie, Octagon Theatre Bolton
Best New Play
Away From Home, by Rob Ward and Martin Jameson, 24:7 Festival
Brilliant Adventures, by Alistair McDowall, Royal Exchange Studio
Cannibals, by Rory Mullarkey, Royal Exchange
Flesh, by Sarah McDonald Hughes, Royal Exchange Studio
Best Studio Production
A Wondrous Place, Royal Exchange Studio
Brilliant Adventures, Royal Exchange Studio
That Is All You Need To Know, The Lowry Studio
Best Fringe Production
Away From Home, Working Progress Theatre, 24:7 Festival
Little Shop of Horrors, Kings Arms
Mary Bell by Mary Bell, Studio Salford
The Best, Lass O'Gowrie
Word:Play, Box Of Tricks, various venues
Withnail and I, Lass O'Gowrie
Best Studio Performance
Joseph Arkley, Brilliant Adventures, Royal Exchange Studio
David Judge, Pages From My Songbook, Royal Exchange Studio
Robert Lonsdale, Brilliant Adventures, Royal Exchange Studio
Gerry McLaughlin, Mugabeland!, The Lowry Studio
Best Fringe Performance
Rebecca Fenwick, Spoonface Steinberg, The Swan, Dobcross and tour
Stella Grundy, The Rise and Fall Of A Northern Star, Studio Salford
Dickie Patterson, The Best, Lass O'Gowrie
David Slack, Withnail and I, Lass O'Gowrie
Rob Ward, Away From Home, 24:7 Theatre Festival
Best Ensemble
Chicago, Oldham Coliseum
David Copperfield, Oldham Coliseum
Duck!, Z-Arts Manchester
Manchester Sound: The Massacre, Library Theatre
Of Mice and Men, Octagon Theatre Bolton
Best Special Entertainment
Dick Whittington, Opera House
Jack and the Beanstalk, Oldham Coliseum
Strictly Confidential, The Lowry
Sutra, The Lowry